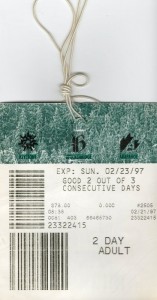 This was a boy's trip out west.
Jeff, Dave, Pete, Steve and me.
Actually, it was my first time riding my snowboard on the big mountains. We rented a place in Breckenridge and spent out first day exploring the mountain.
We also spent a day at Vail and a day at Keystone.
The view from the place we were staying:

Jeff and me at the base of the mountain:

Me, grabbing some air: