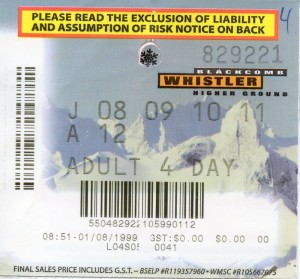 A great few days at the Whistler resort.
That mountain is big. You can go from sunny at the top, down through clouds, snow, into ice and rain at the base. There is an unbelievable amount of terrain. There are wide open bowls up top, tree-lined causeways in the middle and easy terrain at the bottom.
From the top there is a rambling green trail that follows the ridges down to the Roundabout lift so less experienced skier can still enjoy the top of the mountain.
That's just Whistler mountain. Blackcomb sits just next door and offers an equally excellent dollop of terrain.
For a lowlander like me, Whistler is at a much lower altitude that the mountains of Colorado. That means better endurance on the mountain and better sleeping at night.