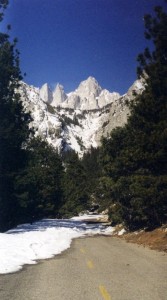 Mt. Whitney, at 14,495 feet is the highest peak in the lower 48 states. It is also the most sought after peak in North America. During the summer months it is normal to find several hundred hikers ascending the peak on any given day via the Mt. Whitney Trail.
In the spring, Mt. Whitney is a different mountain. It becomes a climber's challenge. Our route of ascent was the Mountaineer's Route on the east side of the mountain. What is a third class loose rock gully in the summer becomes a snow climb on terrain up to 45°.
Jeff and I had George Dunn guide us up the mountain. Unfortunately, after making it up the gully the conditions prevented us from making the last few hundred feet to the summit.
Camp One, by Lower Boy Scout Lake:

Our kitchen at Camp One:

The view from Camp One:

Camp Two, by the East Face of Mount Whitney:

The view from Camp Two with Lone Pine in the background:

Jeff climbing up the gully:

Me, George and Jeff just below the summit:

We climbed up there:

To just about there: