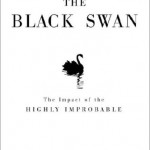 I just finished reading The Black Swan by Nassim Nicholas Taleb. The title of the book comes from the observations of Europeans that all swans are white. Much to their surprise, they came to Australia and found their first black swan. The book starts with this story to illustrate the "limitations to our learning from observations or experience and the fragility of our knowledge." As Taleb points out, it very different to think there is evidence of no possible black swans, than there is no evidence of the possibility of black swans.
Taleb has received lots of press and admirers given the recent meltdown in the financial markets. The book was published in 2007. Taleb seems to have perceived the coming collapse (and probably got a rich financial reward based on his strategy).
His supreme self-confidence (arrogance) shines brightly through in his writing. He has little time for shallow thinking and those who think they understand risk or the financial markets.
Another example running through the book is the first 1,001 days of a turkey's life. For a 1,000 days the farmer brings food to the turkey every morning. On that last day, things change dramatically. The farmer shows up with an axe instead of food. A surprise and horrible change in circumstance for the turkey. But all the historical evidence for the turkey indicated that the farmer would show up with food and not an axe. Of course, on the flip side, the farmer saw the axe day coming.
As Yogi Berra philosophized: "It's tough to make predictions, especially about the future."
It is the unknown unknown that is most dangerous. We spend too much time focusing on knowing what we know. We need to spend focusing some energy in realizing what we do not know and what we do not know what we do not know.
As a compliance and risk professional I was particularly intrigued by the story of the four largest losses by casinos. As you might expect, casinos run very thorough security programs, compliance programs and risk management programs. The four largest losses fell completely outside the casinos' models. One was the white tiger's attack on Roy, the second was a disgruntled contractor who attempted to dynamite the casino, the third was the kidnapped daughter of a casino owner, and the fourth an incompetent employee who failed to file the 1099 reports with the Internal Revenue Service.
It is also important to draw the distinction between positive contingencies and negative contingencies. The black swan can be one that brings unexpected destruction or one that brings an unexpected windfall. His philosophy is to play it safe, but hedge for a disastrous losses and spectacular windfalls. Mitigate the unexpected consequences.
I expected to get a lot of insight from the book. But it was one of the few books that changed the outlook on my profession.