As a long time reader of reader of GeekDad I was stunned that there would be openings to join merry clan. So of course I want to throw my hat into the ring. (Or should that be roll my 20-sided die for a hit?)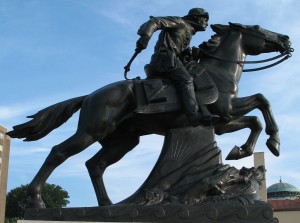 But I was stunned to see that we had to apply by email. EMAIL? Should I also put my application on parchment and send it by Pony Express? But I am willing to compromise. So these first two paragraphs are making their way to you by email, but you will have to read the rest here on my blog.
Well this is actually one of my blogs. My latest professional blog is Compliance Building where I write about compliance and business ethics in my role as Chief Compliance Officer for a real estate private equity company. Here at Doug Cornelius.com we keep it personal. (Okay, so I have pulled the content from my first blog, the now retired KM Space, my second blog, the now retired Real Estate Space, and my third blog, Paddling Space.) You can also see me on Twitter (@dougcornelius), Flickr, Picasa, Upcoming, LinkedIn, SlideShare, Facebook, LibraryThing, Dopplr. . . .
I think that takes care of my geekiness, my experience with blogging, and my experience with social media.
Subject matter expertise? The highlight of fatherhood has been playing Lego StarWars on the Wii with The Son. Videogaming, Legos, and Star Wars all wrapped into one! Although I am not sure how to react when The Son wanted us to play as Boba-Fett and Jengo Fett. Is creepy for him to say "come on son let's blast these battle droids!"? (Yes, he also likes us to play as Anakin Skywalker and Luke Skywalker.)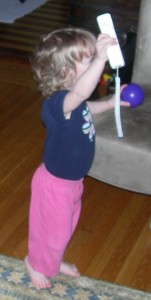 The Daughter is still young but she seems to be ready for GeekDom. When The Son and I are playing the Wii she likes to wave around her own controller.
We are also moving into comics, but he prefers to call them graphic novels. (Okay, actually he calls them 'racket novels.)
What else? How about astronomy? Another proud day was The Son correcting his preschool teachers about Pluto. "It's not a planet. It's a Kuiper Belt object. It doesn't clear its orbital path!"
We also spend many nights preceding Halloween by carving pumpkins. You can see some of our Pumpkin creations here in some posts on Doug Cornelius.com
I would be willing to re-label The Son and The Daughter as The Geek-Son and The Geek-Daughter but won't do it for free. I would demand one of those fancy cartoon portraits that you and the rest of the GeekDad writers have.
Pony Express picture is from Wikimedia Commons.