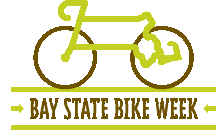 May is National Bike Month and here in Massachusetts we're doing our part to celebrate this event with Bay State Bike Week, May 11th -17th, 2009.
In Newton, there is the second annual Bike Newton Rally and Ride on Sunday May 17 from 12:30 to 3:00. The ride will be a gentle 3.5 mile loop down Commonwealth Avenue., up Temple Street (past Pierce Elementary School) and back by Prince and a few side streets to Comm. Ave. The pace will be leisurely, and there will be a police escort & rolling street closings for added safety.
There are three key events in Boston:
250,000 Mile Pledge – Join Bay State residents as we try to collectively cycle more than 250,000 miles between May 11th-17th
MassCommuter Challenge – A friendly competition amongst Massachusetts businesses and institutions. Support your workplace or institutional team by pledging to bike for all or part of your regular functional trips.
Mayor Menino's Bike Week Festival – Celebrate Bike Week with hundreds of cyclists and enjoy our FREE BREAKFAST, BIKE EXPO AND MUSIC on City Hall Plaza in Boston on Friday May 15th from 7 AM to 10 AM. Ride home with your gift bag and water bottle.