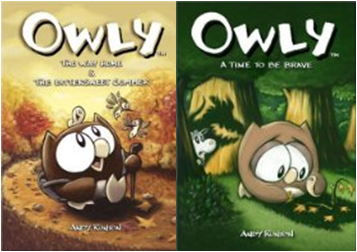 Owly is a cute puffball of a bird and is almost all eyes. The other creatures that populate the stories, including a worm, smaller birds and lightning bugs, are also cute and expressive. There is nothing to actually read in these books other than a few sentences from the books Owly reads. Dialogue takes place through pictographs symbolizing concepts like home and ideas.
I received a copy of the the first book in the series, The Way Home & The Bittersweet Summer, and the fourth book, A Time to be Brave, from the publisher.
My five year old has quickly become a big fan of these graphic novels. I like them just as much as he does. The stories tell the power of friendship, trying your hardest and caring for others. All great traits that I try to teach my kids.
You can read more in my latest post on GeekDad: Wordless Owly Books Are Good Reads.