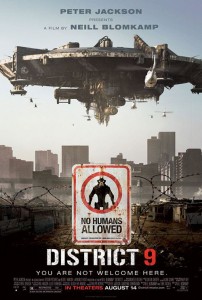 The Wife and I got a babysitter and went to see District 9.
The movie is directed and co-written by the South African filmmaker Neill Blomkamp and shot in Johannesburg and the New Zealand studios of producer Peter Jackson. (You may remember him as the director of the Lord of the Rings movie trilogy.) Jackson had originally picked Blomkamp to direct the movie version of Halo.
Was it worth the price of a babysitter?
Read more on my latest post on GeekDad: 9 Things That Parents Should Know About District 9.