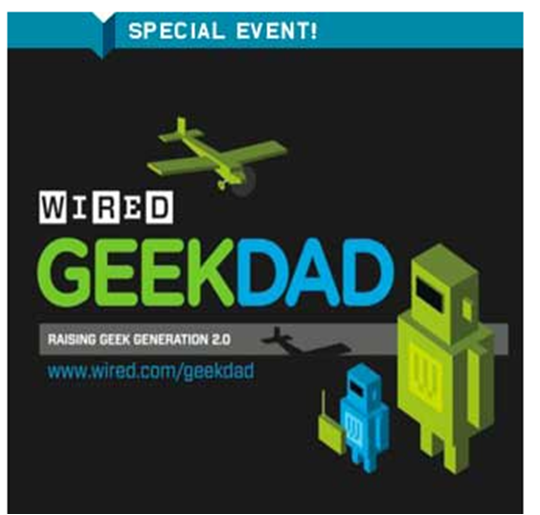 Join Ken Denmead, Editor of GeekDad, Matt Blum, Assistant Editor of GeekDad, me (!), and some other GeekDad writers at the Wired Holiday Store in New York City on Saturday, December 19.
GeekDad will be featured inside the store during the early afternoon, with contests and prizes.
The WIRED Store is located at:
415 West 13th Street
(between 9th Avenue & Washington Street)
New York City
212-645-0210
The Store is open:
Wednesdays through Sundays, noon to 9pm
(closed Thanksgiving and Christmas Day)
Here, you'll find all that's new & next in the world of WIRED: Cutting-edge technology & design… The latest in games & gaming… Cool new music & books… Hot new gear & gadgets… Indoor & outdoor inspiration… Products to help you lead a greener life… And the opportunity to own your very own WIRED-branded stuff.
Check out our interactive mural, in collaboration with Moby
Get your game on in our Tony Hawk-inspired Gaming Lounge
Go green with Adrian Grenier
Sunday Game Day Lounge

Play along with our Geek Dad demos on Saturdays

Spend Sunday in our Game Day Lounge
Get your gadgets laser-engraved by tattoo artist Scott Campbell
Demo the coolest gifts to give and receive