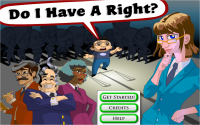 Our Courts is a web-based education project designed to teach students civics and inspire them to be active participants in our democracy. They have produced two video games to help educate our kids about the legal system.
Our Courts is the vision of recently retired Justice Sandra Day O'Connor, who is concerned that students are not getting the information and tools they need for civic participation
Read more about the project and the two video games they have produced in my latest post on GeekDad: So Your Kid Wants to be a Civil Rights Lawyer.
Here are some of my other recent posts on GeekDad: