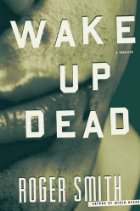 Looking for a page-turning crime thriller? Wake Up Dead
is violent crime story, full of bad people doing bad things.
With a book title like that you shouldn't be expecting puppies, ponies and rainbows.
Two meth addicts on the streets of Cape Town decide to carjack a Mercedes. They pull ex-model Roxy and her husband out of the car and shoot him in the leg, leaving behind the gun in their meth-induced haze. Roxy decides on a quicky divorce and uses the gun to end her marriage. "Till death us do part."
That opening leads us through the steamy underbelly of Cape Town, South Africa. The action is unrelenting as Roger Smith peels back the story like the layers of an onion. The story drives you forward as each vignette has you wondering where it will take you next. The characters are interesting enough to keep you involved. None of the characters are likeable. Each is deeply flawed, if not down-right psychopathic.
This is Smith's second book. His first, Mixed Blood, has been optioned as a movie. Reading Wake Up Dead, it felt like a Guy Ritchie movie. Criminals coming together because a misfortune of events pulls them together. The murder and mayhem ensues.
The publisher provided me with a copy of the book in the hopes that I would review the book. It was very good, so I am willing to spread the word. The book goes on sale February 2.
If Wake Up Dead sound interesting, you can also read read the first chapter of Wake Up Dead (.pdf) on the Roger Smith Books website.