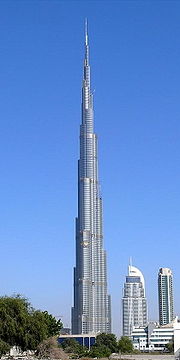 The Burj Dubai is at least 2,683ft from its base to the tip of its spire. That's more than half a mile, the equivalent of two Empire State buildings stacked up. Its actual height is being kept secret until Monday, but insiders have hinted it could break the 2,700ft mark.
The tower is more than 1,000ft higher than its nearest inhabited rival, the 1,671ft tallTaipei 101 in Taiwan. It is also 700ft taller than the next tallest man-made structure in the world, the 2,063ft KVLY-TV mast in North Dakota.
The 169-floor building has the highest swimming pool in the world, on the 76th floor, and the most elevated place of worship with a mosque on the 158th floor.