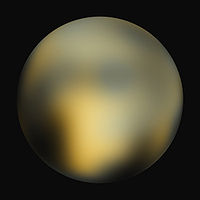 When picking up The Daughter, I was horrified to see a montage of the solar system on the wall of an adjacent classroom with nine planets.
NINE PLANETS?!?! That's so 2005.
It's not that I have anything against Pluto. The problem is that it was mislabeled as a planet when it was discovered because of some bad observations of Neptune. I read Planets X and Pluto a few weeks ago so I had still had a bunch of history and science in my head.
By coincidence, March 13 is the day that the discovery of Pluto was announced. So I put together a post on GeekDad: Happy Pluto Discovery Day.
If still think there are nine planets, you definitely need to read Happy Pluto Discovery Day.
Some of my recent GeekDad posts: