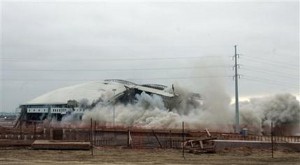 Sure the view of the Texas Stadium implosion was cool from the outside. An 11-year-old named Casey Rogers, the winner of a local essay-writing contest, pushed the button that triggered the implosion, and set off 1.5 tons of explosives that brought down the stadium.
But imagine what it looked like from inside the stadium.
Even better than imagination, the Cowboys filmed the implosion from the 50 yard line: Farewell to Texas Stadium.
I don't think the camera made it out in one piece. It looks like one of the girders came crashing down on it, ending the video before the entire stadium came down.
At least you can see the entire thing from the outside: