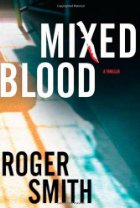 Roger Smith has written a gritty, violent thriller full of deeply-flawed people trapped in bad luck and the violence of Cape Town, South Africa.
Some books slowly weave a tapestry of ideas. Mixed Blood
is not one of those books. It's rapid roller coaster with scenes quickly moving through the ups and downs of his cast of characters. The background and flaws of the characters are fired with the staccato of a machine gun into the narrative.
You probably won't like any of the characters. Most of them are bad people. Jack Burn is bad gambler willing to kill. Benny is gang member who places little value on human life. "Gatsby" Barnard is evil cop, ruling the streets with violence.
Even not liking the characters, you do care what happens to them. They are flawed, but incredibly human. Several are either fighting for survival or for a chance at a new life. Will they find redemption or death of both? You will keep turning the pages to find out.
There is lots of death and violence in the book. It's gripping, but not for the faint of heart. If it sounds good, you can read the first chapter of Mixed Blood (.pdf) on line and see if you like it.
Mixed Blood is Roger Smith's debut thriller. I read his second, Wake Up Dead, back in January. The publisher was nice enough to send me this copy.
This marks book number 29 on the books I've read so far in 2010 on my quest for 52; a book a week.