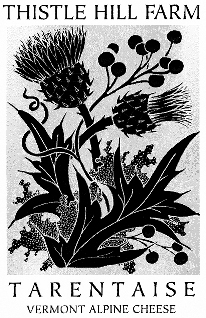 Last week the Wall Street Journal featured an ex-lawyer in its Second Acts column: A Lawyer's Life Turns to Cheese. I'm a lawyer and I like cheese so it caught me eye. And my stomach.
John Putnam spent 17 years as a lawyer, first at Craig and Macauley in Boston, then later at Stebbins, Bradley, Wood & Harvey in Vermont. He also bought a farm in Vermont and eventually went into organic dairy farming. Realizing that was not organic milk was not going produce enough money he and his wife decided to try cheese-making. In 1999 they went to the different cheesemaking regions in the Swiss, French and Italian Alps, seeking a cheese which they would love and climate that would be a match for the climate of North Pomfret, Vermont.
That's their story. I was intrigued (and hungry), so I decided to order a quarter wheel of the cheese directly from the farm: Buy the Cheese.
The Federal Express man dropped off the package the next day.
Thistle Hill Farm cheese is delightful. I'm happily going to devour the four pounds of cheese sitting in my fridge.
Plus, they sent this nice note along with the cheese: