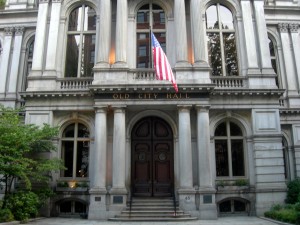 Old City Hall served as the center of Boston's municipal government for nearly a decade. Old City Hall, was built between 1862 and 1865. The building is nestled in downtown at 45 School Street, along the Freedom Trail between the Old South Meeting House and King's Chapel. This building was replaced by the brutalist building designed by Kallmann McKinnell & Knowles at Government Center.
Rather than leveling the building, it was the subject of an early effort of adaptive reuse of a historic building. It's main feature is a Ruth's Chris Steak House. Otherwise its an office building. Although one with some very interesting interior spaces.
Learn more at the Old City Hall website.
My quest to visit each of the 1,000 Great Places in Massachusetts continues.