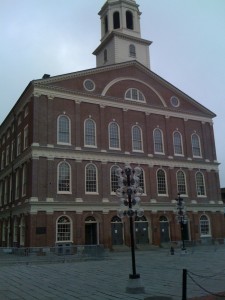 It's no surprise that Faneuil Hall is on the list of the 1,000 Great Places in Massachusetts. This is one of the most popular tourist destinations in the city of Boston.
You have to wonder if Great Places commission made an out-of-town misstep and meant to include Faneuil Hall or Faneuil Hall Marketplace.
Faneuil Hall is the brick building at the end of the marketplace that few people enter. It was built in 1740 with an open ground floor. Peter Faneuil gave it to the City of Boston in 1740. Charles Bullfinch expanded it in 1806, adding a third floor.
The building is a National Historic Landmark, having been added in 1960.
The Architectural Heritage Foundation manages the market hall, on the ground floor.
The Great Hall is on the second and third floors.
The Headquarters of the Ancient and Honorable Artillery Company of Massachusetts is located on the 4th floor.
Faneuil Hall is just one component of the larger Faneuil Hall Marketplace. This also includes three long granite buildings called North Market, Quincy Market, and South Market, and operates as an outdoor–indoor mall and food eatery. It was redeveloped by The Rouse Company in the 1970s.
Cost: $0
The list of 1,000 Great Places is now down to 997 Great Places. In my continuing quest to map the places on the list, I discovered another duplicate entry:The Boston Center for the Arts and Boston Center for the Arts.