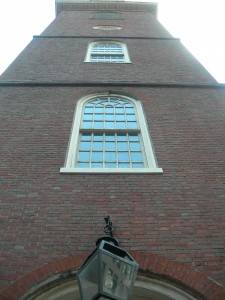 The Old South Meeting House sits in the Downtown Crossing area of Boston. It's a Revolutionary War vintage building. Construction ended in 1729. It was the largest building in Boston at the time.
The Meeting House's claim to fame is that it was the organizing point for the Boston Tea Party on December 16, 1773. 5,000 colonists gathered at the Meeting House. The group met in the Meeting House to debate British taxation. Apparently, the discussion did not go well because after the meeting a group raided a nearby tea ship in what became known as the Boston Tea Party.
With all that history, it's no surprise that it is one of the stops on the Freedom Trail.
Cost: $8.00
Learn more at the Old South Meeting House website.
Another place visited on the list of 1,000 Great Places in Massachusetts.