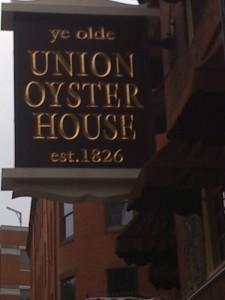 I was getting hungry on my quest to write about each of the 1,000 Great Places in Massachusetts, so I stopped by ye olde Union Oyster House in Boston.
It serves a great clam chowder and has a fabulous raw bar.
The Union Oyster House holds the claim as America's oldest restaurant, having been in continuous service since 1826. In 2003 it was registered as a National Historic Landmark.
The building site dates as far back as 1742 when is was a dry good store. At that time, before all of the land reclamation, Boston harbor was at the back door of this location.
In 1826 it was opened as a restaurant called Atwood & Bacon.