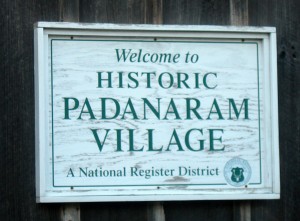 Padanaram is one of villages of South Dartmouth sitting along Apponagansett Bay. In the mid-18th century it was a shipbuilding center and later became a minor whaling port. New Bedford Harbor sits nearby which was a much larger center for shipbuilding and whaling. The small streets still echo the classic small New England village of prior centuries.
In 1985, the village was added to the National Register of Historic Places. Apparently, that was enough to earn a place in the list of 1,000 Great Places in Massachusetts.
Apponagansett Bay is chock full of boats sailing and motoring out of Padanaram Village.
We spent most our time checking out the village aboard the Madness, departing from the South Wharf Yacht Yard in Padanaram Village.