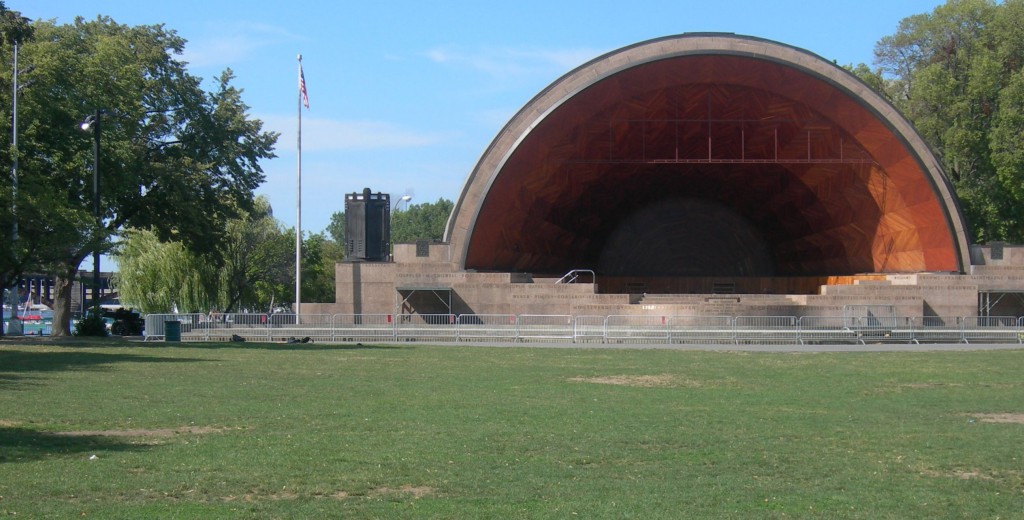 An esplanade is a long, open, level area, usually next to a river or large body of water, where people may walk. The Esplanade is the centerpiece of Boston's Fourth of July celebrations. At other times, the beautiful Hatch Shell usually sits silent and unused, waiting for the Boston Pops to come back again.
The Esplanade stretches almost three miles along the Boston shore of the Charles River, from the Museum of Science to the Boston University Bridge. The parkland evolved in stages, over several decades, as landfill was added to the mudflats. Damming of the Charles River basin in 1910 submerged the smelly mud flats, creating a wide basin with a near constant water level.
The construction of Storrow Drive in the early 1950s sliced the Esplanade from the rest of the city, although the fill from the construction created additional parkland.
The area referred to today as the Esplanade is just middle one of three distinct segments. Charlesbank is the easternmost section, extending from the Charles River Dam to the Longfellow Bridge. Charlesgate is the westernmost segment, extending from the Harvard Bridge to the Boston University Bridge.
The middle segment extends from the Longfellow Bridge in the east to the Harvard bridge on the west. It contains the Hatch Shell, Community Boating, Union Boat Club and the lagoons.
The Esplanade was yet another stop on my journey to visit and write about each of the 1,000 Great Place in Massachusetts.
Read more: The Esplanade Association – History