I have to admit that I had been a negligent parent. I had not taken my kids to the Boston Children's Museum. I fixed that problem when I finally brought them to Boston's waterfront last Friday.
There is plenty for young kids to experience and enjoy. I shouldn't have waited so long.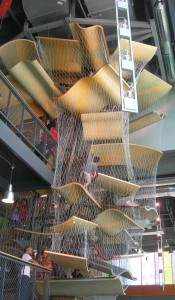 Right at the entrance is the three-story climbing maze. The Boy went charging right in and up. The Girl had second thoughts and came right back out. We continued on while he continued to go up and down.
The Girl went to the KidPower exhibit next door and started pulling, pushing, and climbing.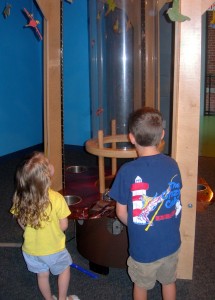 I was surprised that The Boy was intrigued by the flying leaf machine in the "Out on a Limb" exhibit. He kept grabbing the fabric leaves and throwing them into the plastic tube over the fan. He spent an hour throwing the leaves in and watching them float up.
The only miss at the Boston Children's Museum was the "Japanese House." It's a fully equipped 100-year-old Japanese House reconstructed in Boston by Japanese carpenters inside the Museum. Given the age of the structure, it's mostly a no touch zone, standing out in sharp contrast to the rest of the museum. The Japanese House off the main traffic flow at the back of the third floor.
There are plenty of other exhibits and things to do. Bring your young kids. They will have a great day.
It's easy to see why the Boston Children's Museum is one of the 1,000 Great Places in Massachusetts.