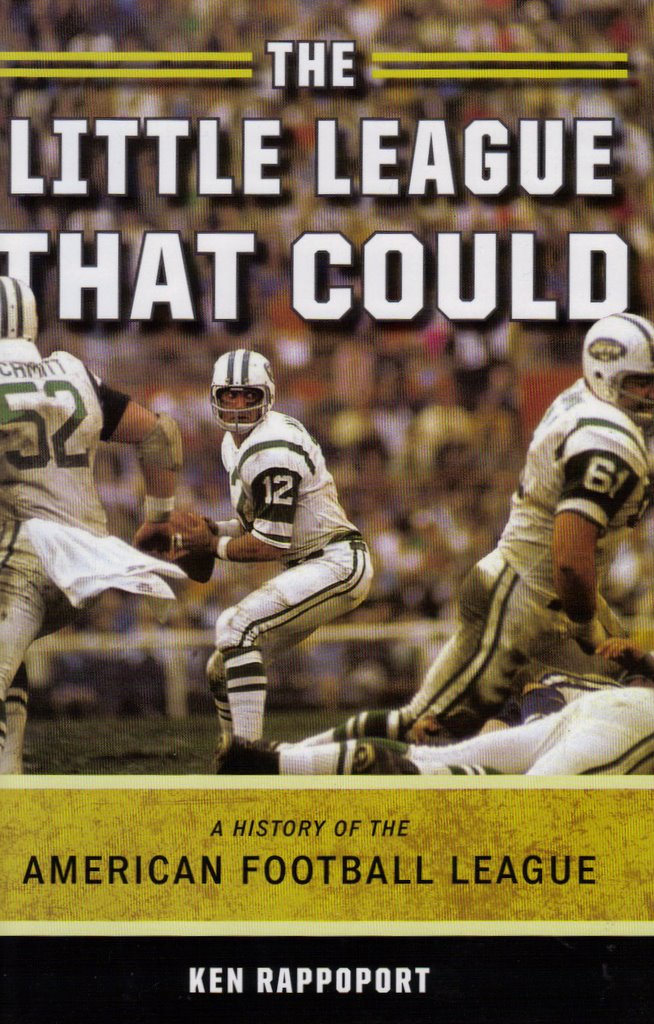 My house is a football house, but mostly an AFC football house. I'm a long time Patriots fan and Mrs. Doug bleeds KC Chiefs red. With a little knowledge of football history you would know that the AFC is comprised mostly of the teams from the upstart American Football League that played its games in the 1960s.
Ken Rappoport weaves stories told by the players, owners, and coaches from the days of the American Football League in The Little League That Could: A History of the American Football League
It all began when Lamar Hunt watched the 1958 NFL title game between the New York Giants and the Baltimore Colts. He believed that football was the best sport for television and that it would become big because of television.
He wanted in.
He tried convincing the NFL to grant him an expansion franchise. He tried buying the Cardinals (then located in Chicago). Neither route to NFL ownership worked.
Unable to get in, he decided to start his own league. He first teamed up with Bud Adams who he had met while Adams was also trying, unsuccessfully, to buy the Cardinals. The other big money owner was Barron Hilton, scion of the hotel family (and eventually grandfather to Paris). Those three brought along five other franchises, including the underfunded Billy Sullivan and my beloved Boston Patriots.
I was expecting the book to be an encyclopedia retelling of the history of the AFL. It's not. It's told by the participants in the league. I had the feeling that I was sitting in a bar with these great personalities telling me their stories of glory from the American Football League. Rappoport does a great job capturing those stories and weaving them together into a coherent narrative.
The AFL survived the battle with the NFL because it was putting good football on the field and on television. They were successfully recruiting players away and driving up the cost of player contracts. The NFL underestimated the AFL and let quality players go to the little league, assuming it would collapse and the players would come back to the NFL. After initially underestimating the AFL, the NFL owners gave up the battle and agreed to merge the leagues.
The book is a great combination of the business side of the game and the playing side of the game. There are some great stories in the book. If you're a football fan or a sports history buff you will enjoy reading this book.
The publisher was kind enough to send me a copy of the book to review. If you buy the book by clicking through this review, my local PTO gets a kickback from Amazon.