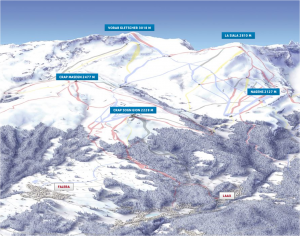 The resort of Laax in Switzerland has created this fantastic 360 degree virtual reality snowboarding video.
You control the camera angle. At first, the camera is merely mounted on tripod, so you can take in the scenery and the grooming operation. It's a nice lead in to the real action.
Then the camera is mounted on a skier as they head down the slopes you can rotate the view to take in the run, the mountain, and the scenery. (Based on the shadow and the tracks, it is a skier, not a snowboarder.)
Hit play, then can click and drag with your mouse to change the view. Or just use the arrow keys on your keyboard to pan around.
I found this cool video via Barry Ritholtz's Big Picture: 360° Interactive Snowboard Video and White Lines.