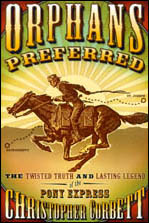 Legend tells us that this help wanted ad appeared in a California newspaper in 1860:
Wanted.
Young, skinny, wiry fellows. Not over 18.
Must be expert riders. Willing to risk death daily.
Orphans preferred.
The tales of the Pony Express are legendary. It turns out that there are more legends than truth. Most of that is largely because of Buffalo Bill Cody. His traveling show of the wild west was a huge international attraction and spread the legend and grew the legend of the Pony Express. Christopher Corbett brings this all together in his book, Orphans Preferred.
Mrs. Doug is from St. Joseph, Missouri, the eastern starting point of the Pony Express route. The rider would mount in front of the Patee House, then charge downhill to a ferry that would take him across the Missouri River and head out to Salt Lake City and on to Sacramento, traveling almost 2,000 miles. In 1860, the Missouri River marked the beginning of the West and the end of American civilization. The railroads and telegraphs ended here.
I find the Pony Express is a great example of the evolution of communication, especially in the current explosion of web-based communications. There is plenty of hype and legend about the evolution of LinkedIn, Facebook, Twitter and others. The legend is bigger than reality in these money-losing ventures. Perhaps if the Pony Express founders had venture capital money and IPOs they would have turned out differently. Instead, the experiment lasted only 18 months and lost hundreds of thousands of 1860 dollars.
On October 24, 1861, the president of the Overland Telegraph Company sent a two sentence message across a wire from San Francisco to Washington, D.C., telling President Abraham Lincoln that the telegraph has been completed. Two days later, the Pony Express went out of business.
For that short period of time, the Pony Express brought California ten to twelve days closer to the rest of the civilized world.