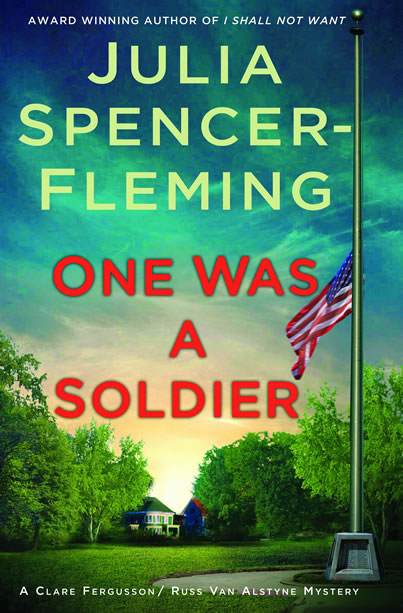 At the Millers Kill Community Center, five veterans gather to work on adjusting to life after returning home from the overseas deployment. Reverend Clare Fergusson has returned from Iraq with a head full of bad memories and a drug and alcohol problem. Dr. George Stillman suffered a head wound and is trying to convince himself that it won;t affect his practice. Officer Eric McCrea has bottled up all of his rage from his stint as a guard at prison camp and his failure at anger management is affecting his life as a cop, and as a father. The young Will Ellis is looking for some reason to keep on living after losing both legs to an IED. The doomed Tally McNabb has brought home a secret. To this motley crew, add Police Chief Russ Van Alstyne who just wants Clare to marry him.
That's the set up for Julia Spencer-Fleming's latest book, One Was a Soldier. It sounded interesting enough to read, so I picked it up from the stack that the publisher made available. I enjoy a good mystery.
This was an unusual mystery. The crime does not happen until nearly the midpoint of the book. There is much more focus on the the problems of returning home, the burden of guilt, and the burden war. That means there is plenty of rich character development and intrigue to keep you interested before it turns into a mystery.
Since I do quite a bit of reading on the train during my daily commute, I spent some extra time in South Station squeezing in the end of a chapter in the morning and nearly missing my stop a few times in the afternoon. Not wanting to put a book down is a sure sign of a good book.
The characters are richly drawn and intriguing. They have apparently been around for a while. This is the seventh book that has put Chief Cal Alstyne and Reverend Fergusson together. I haven't read any of the prior books and it didn't affect my enjoyment of the story. There seemed to be some obvious references to the prior books. You'll notice them, but it doesn't detract from this one.
If One Was a Soldier sounds interesting, you can read an excerpt online. You will have to wait until April 12 for it to go on sale.