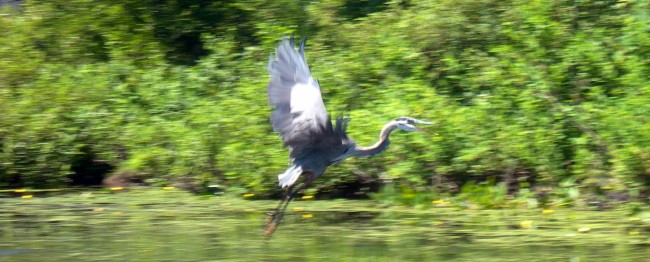 If you want to take a long paddling trip on the Charles River and don't own a canoe or kayak, this is a great choice. Charles River Canoe and Kayak will shuttle you up to Charles River Park on South Street in Needham and let you paddle back to Nahanton Park.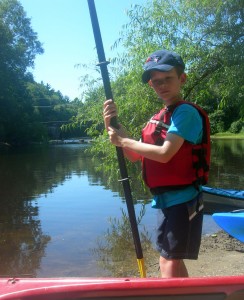 The entrance is great, with a small amount of parking. Then, it's a lazy cruise down the river, largely free of obstructions with lots of wildlife. The first notable landmark is a school on the left bank. The tennis courts and skating rink back up to the river.
Then you quickly come up to the Lyons Street bridge. The original bridge at this location was built prior to 1741 and has been rebuilt several times since. Below this bridge, the Charles crosses under Route 128 (I-95 for you latecomers to Boston) for the first of three crossings.
After that crossing we began the long loop around the marshes of Dedham. You can bypass the loop during high water by cutting across the Long Ditch. This was an early flood control measure on the Charles River. It was dug in 1654 to reduce flooding and improve the meadow grasslands. As you might expect, this too is part of the Natural Valley Storage Project on the Charles River, helping to alleviate flooding further downriver.
Another flood control measure is the Mother Brook diversion.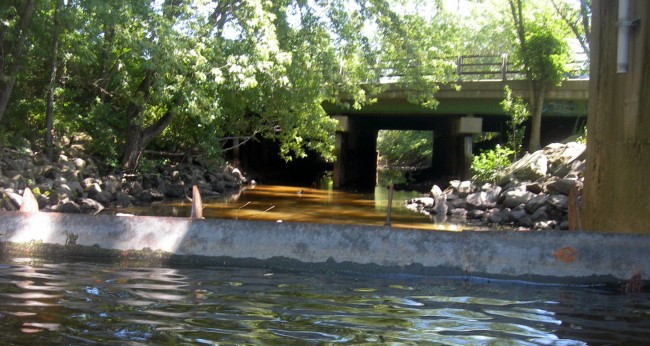 This outlet sends high water over to the Neponset River. Apparently, it can take the extra flow. Mother Brook is manmade. The 4000 foot ditch was dug in 1639 from the Charles River to East Brook to provide water flow to a new mill, then another, and another. The mills are long gone, but a flood gate now helps control the diversion.
This section of the river passes along the VFW Parkway with the Dedham Mall on the far side of the highway. Harvey Beach, the long discarded swimming spot on the Charles, is here.
High on the right bank is a treeless hill. This is the capped Gardner Street landfill, a major Boston dump from the 1930s to the 1970s. The river is wide in this section. It narrows to squeeze through a railroad bridge. If you time it just right, you can pass under as a commuter rail passes roars overhead.
The river widens again and eventually leads you to the dock at Nahanton Park.