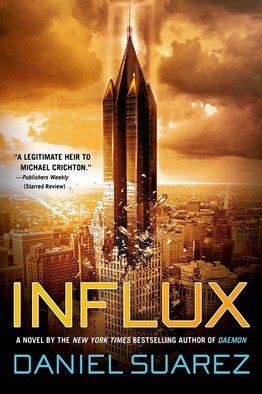 Imagine that there is a sinister Bureau of Technology Control that has been suppressing technology advances. Nuclear fusion? Perfected in 1985. Cancer? Cure discovered in 1998. "Immortal DNA strand segregation"? Accomplished in 1986. Control gravity? Now (at least in Influx by Daniel Suarez).
The Bureau kidnaps the revolutionary scientists that have developed these breakthrough technologies and is withholding their discoveries. The Influx hero has developed a "gravity mirror" that controls gravity. The Bureau deems it disruptive and kidnaps him.
I had very high hopes for Influx. The Wall Street Journal thought that Influx could be Suarez's "breakout book and propel him into the void left by the deaths of Tom Clancy and Michael Crichton".
It's good. I ripped through it quickly, wanting to see where the story went. But setting the bar as high as Clancy or Crichton is too high.
I mostly got hung up on the futuristic technology. It was too advanced. I bought the gravity mirror. But I couldn't put my belief in a fusion reactor the size of a softball. That ultimately distracted me from the rest of the story.