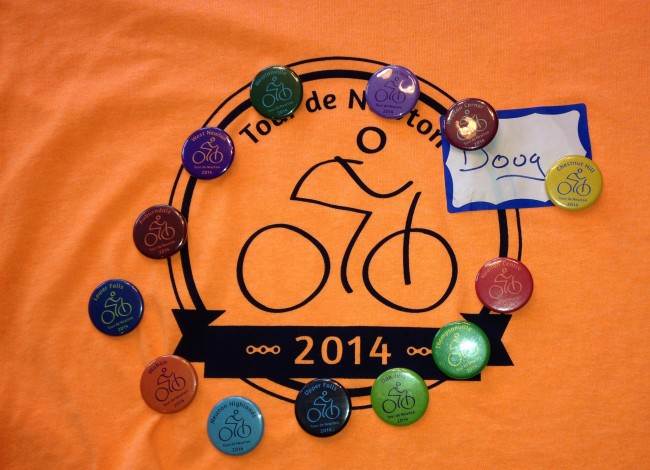 It was a glorious early summer day. The sun was shining. The sky was blue. I was wrapped in a bright orange shirt for my ride in the Tour de Newton.
The Tour de Newton is a casual ride though all 13 villages of Newton. It's a shotgun start, so the ride starts simultaneously in all 13 villages. It ends up being about 20 miles and takes about 3 to 4 hours. You earn a pin at each village stop.
I signed up late so the only village still open for riders was Chestnut Hill. That meant I had to add on five miles at the beginning (and end) to get to the Boston College start.
John led the group out at a leisurely pace, while Lucia swept up the back of our pack of 25 riders. We were across the age spectrum, with a half dozen teenage boys exercising their freedom of adventure, a few under-ten, and pack of those comfortably in their middle age, like me.
From Chestnut Hill we coasted down Comm Ave and Centre Street to the Jackson Homestead for our first stop at Newton Corner. The downhill was a great way to start. But it also meant we would have to get back uphill at the end. Then on through the rest of Newton.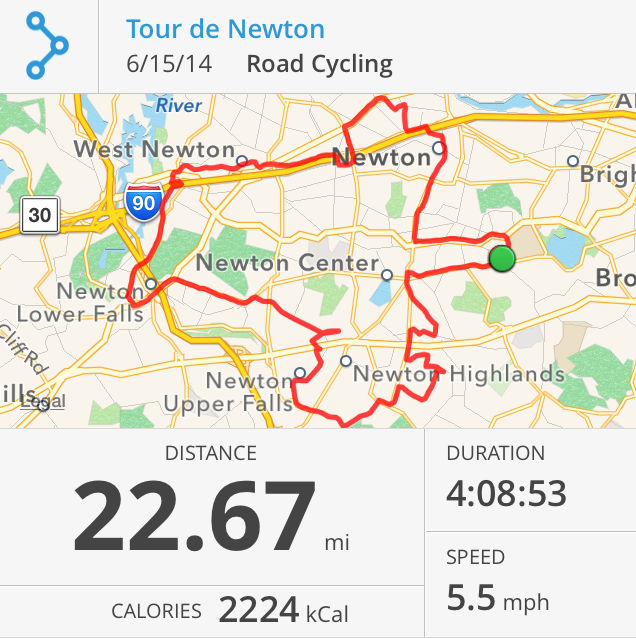 The Newton police set up cones for our left-hand turn through Newton Corner. They also set up cones on Washington Street to set up a bike travel lane as we pedaled over I-95 and blocked off-ramp traffic for us.
There was only one driver who acted like a jerk to our pack. He thought we were too much of an inconvenience and couldn't wait the extra two minutes for us get through Auburndale. At least he was well-behaved enough to not actually hit any of the cyclists. He just made it more treacherous for us.
The Tour was extremely well-organized and well-supported. I'll need to remember to sign up earlier next year.