It was the first weekend of summer and time for some serious bike riding. I will be riding the Pan-Mass Challenge later this summer to raise money for cancer research.
(I would appreciate your support: Click here to make a donation. 100% of your donation goes to the Dana-Farber Cancer Institute through its Jimmy Fund.)
I needed to get in the saddle and toughen up for the long days I'll be riding my bike during the PMC. I squeezed in three rides over Memorial Day weekend to get along in my training.
Saturday
On Saturday I joined up with my Pan-Mass Challenge team: Team Kinetic Karma. It was a 56 mile trek through the South Shore and along the coast. If you remember, it was a chilly morning. There were lots of long sleeves, and even a superman onesie to stay warm.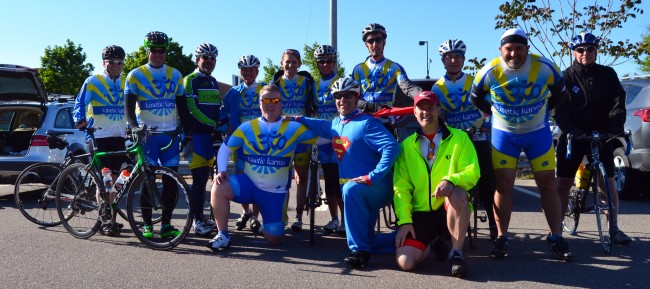 We rolled through Wompatuck State Park and the back roads out to the ocean. The ride included a brief stop at the Scituate Lighthouse for another group photo.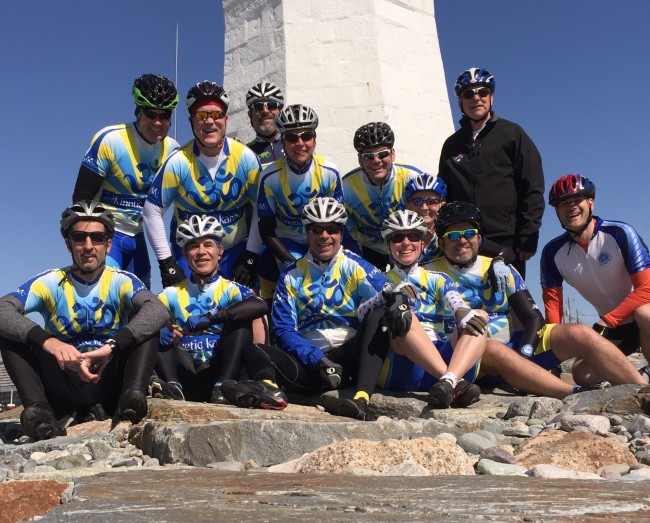 There was a stiff headwind coming off the water, but we had great views of the ocean on large parts of the ride. Nantasket Beach was deserted. It was sunny, but too cool for a beach day.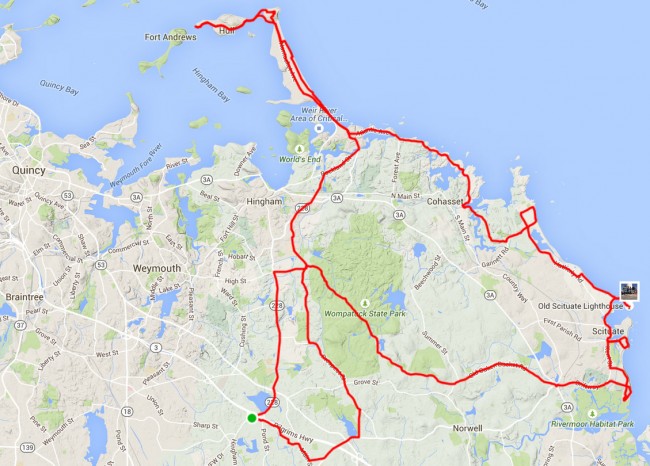 [More cycling details from Strava on the ride]
While not a beach day, it turned into a great day for cycling.
---
Sunday
After the long ride on Saturday, I was looking for a short ride in the early morning. Melissa W. was up for the challenge and joined me on the ride.
We rolled through the streets of Weston and Lincoln while most people were just getting out of bed.

[More cycling details from Strava on the ride]
It was a beautiful morning for a 26 mile ride.
---
Monday
For the third day out of three, I was planning a short and sensible ride just to get a few dozen miles in the saddle. Melissa W. was initially up for the ride. But she wasn't able to go. That removed my sensibility limiter from the ride.
Early in the morning I was sitting at the kitchen table getting ready and staring at the Greater Boston Bike Map trying to decide where to go by myself.
Nahant, sticking out of the North Shore, caught my eye. So I was off. I failed to measure how long the ride would be,
It was an early morning on a holiday, so I was sure that traffic would be light. I charged along the river, out Rutherford Ave., through Everett and onto Revere Beach Parkway. Shops were just starting open, early-morning walkers were strolling along the sidewalks, and there were just a few early-rising beach denizens. My bike joined them for a brief moment before heading back onto road.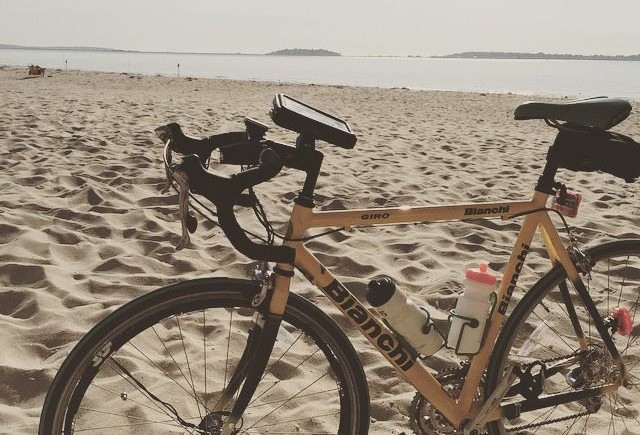 Heading North, I found Nahant and circled the peninsula. The approach from the left to Nahant was along a busy industrial street. To the right was a more pleasant looking Lynn Shore Drive. I turned right.
When I came into Swampscott I realized that I needed to find a way home. The route there, along the beach and through the city, would now be getting busy and would be less bike-friendly. I needed a different way home through an area of Greater Boston that is out of my area of street knowledge.
I pulled out my trusty bike map and found a few routes marked in green as bike friendly. They would take me west and back towards home. I have to admit that I'm not familiar with the North Shore and I'm not sure exactly where I was. Peabody, Lynnfield, and Wakefield were common names on road signs.
I had to stop at one point because the route was blocked by a Memorial Day parade. I think this was Stoneham.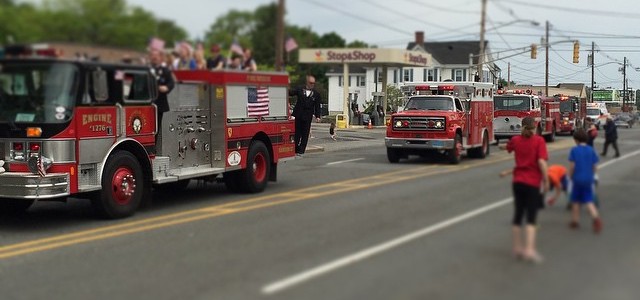 After that break, I pedaled on, looking for bike friendly roads that kept me inside 95, but kept heading west and south. That was the way home.
I turned a corner a one point, realizing I was in Lexington, but was surprised to see the Lexington Battle Green. It was great to briefly see another Memorial Day celebration.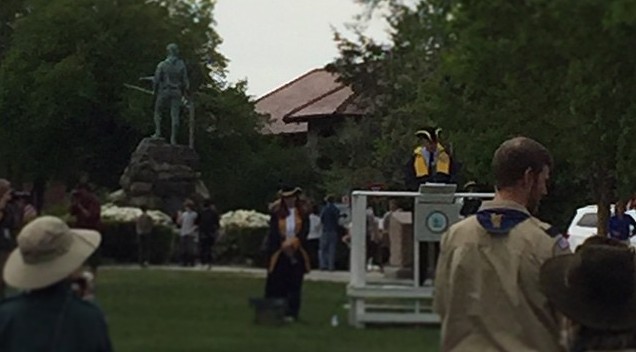 I finally found familiar roads and a good way home. In the end it was a 79 mile ride.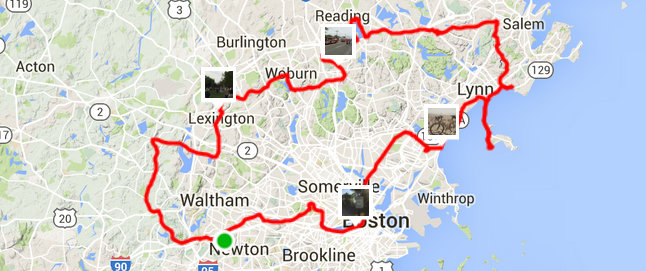 [More cycling details from Strava on the ride]
The weekend mileage was about half of what I will need to do for the Pan-Mass Challenge. I hope this was a good start.
---
Thanks for reading about my rides.  Please donate to my PMC ride at one of the following links: