Good morning Sturbridge!
My legs were tired and my head was groggy after biking here from the New York border on the Day Zero ride. This was the main show. Thousands of bikers were gathering at the Sturbridge Host Hotel to start the 112 mile ride to Bourne.
We had been working for months on fundraising and training. It was time for action. I tucked my list of sponsors and their words of support into my back pocket, and clipped on my Soul Train name card.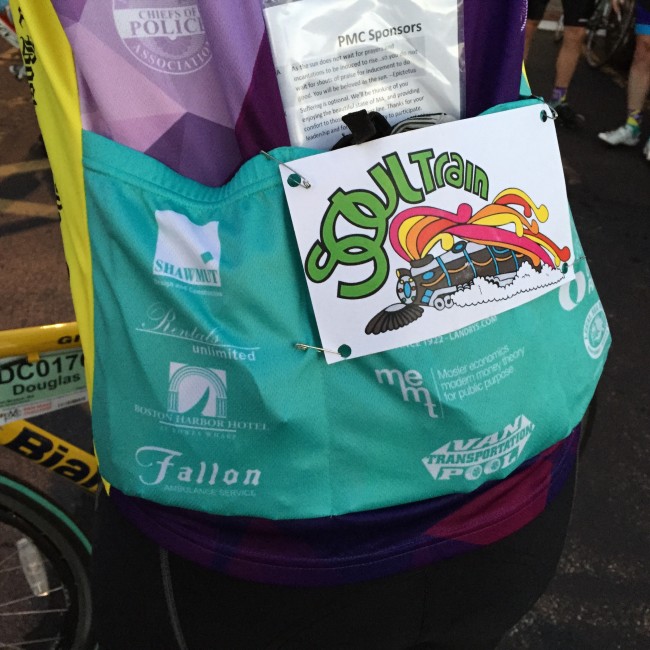 The parking lots were a sea of purple, teal and yellow. Nearly every rider had donned the official PMC jersey for the ride. That included Team Kinetic Karma.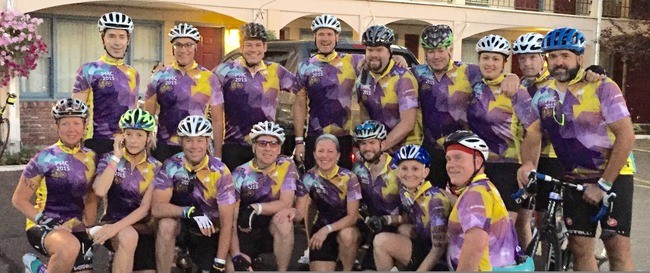 We were ready to roll out as the sea of purple flooded onto Route 20 behind the police escorts. Well, not completely ready. Cap'n Dave could not get to our rally point for the team picture at the start.
Chris, Lance and I needed some coffee so we hit the first Dunkin' Donuts at a 1/2 mile into the ride. Once again, I popped a large ice coffee into my bottle cage. It seemed to entertain the spectators when they saw a PMC cyclist thanking them with a wave of the big ice coffee instead of a water bottle.
Now we had to hunt down the rest of the team. It's not easy to do so while keeping your eye on the movement of other riders and obstacles in the road. The three of us quickly stopped at the first break area in Whitinsville, jumped back on the saddles and rode on.
We pulled into our team rest area at Sheldonville Bicycle Repair just past the main Franklin water stop. No other team riders were there. Our first reaction was that we so far behind that they left without us. Then we realized we must have missed them in Whitinsville.
That meant more time for my family. My dad, Mrs. Doug and my kids had all come to SBR. My dad battled cancer last year and is one of the reasons I'm riding. The rest stop allowed me to re-charge my body and my soul.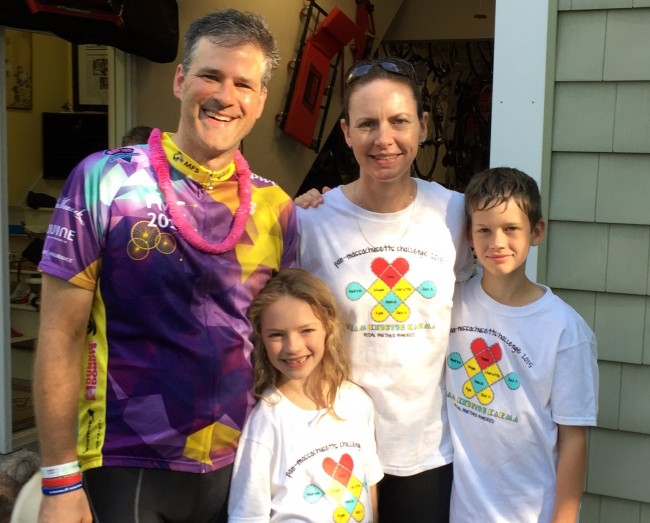 After re-charging, Team Kinetic Karma re-gathered and we were off toward Bourne. Or at least toward the lunch stop.
Riding into the lunch stop is hard. The street is lined with pictures of kids battling cancer. One of those was Anna, our Pedal Partner. We would meet up with her at another stop later in the day.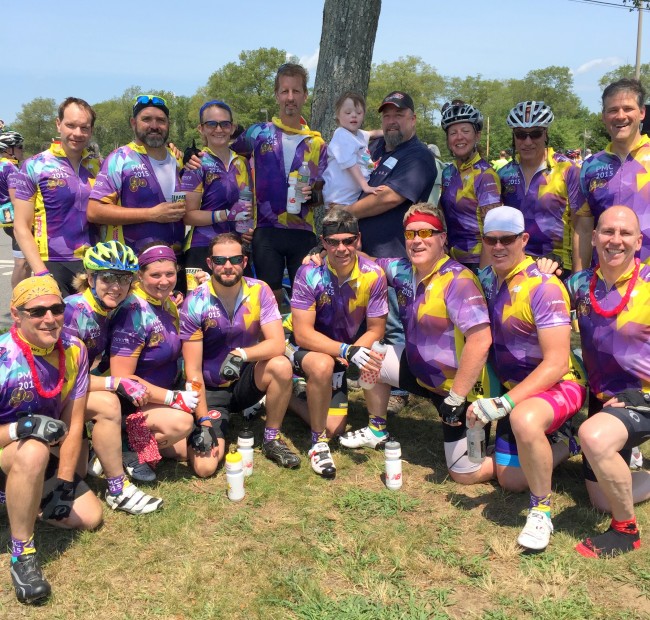 Also waiting at that rest stop, was Dave R.'s mom with picnic basket full of home-made linguica sandwiches. There was also a Del's Frozen lemonade. Yet another rest stop to recharge our bodies and souls before the final stretch into Bourne.
The miles came and hills were climbed. You could smell the sea air as we got closer to the finish line at the Mass Maritime Academy.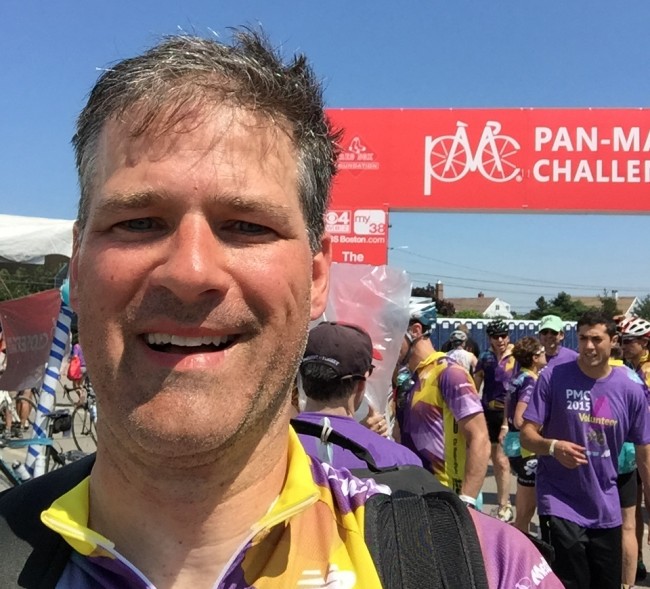 We showered, ate, drank and relaxed before gathering for a Team Kinetic Karma team photo. But we got photo-bombed.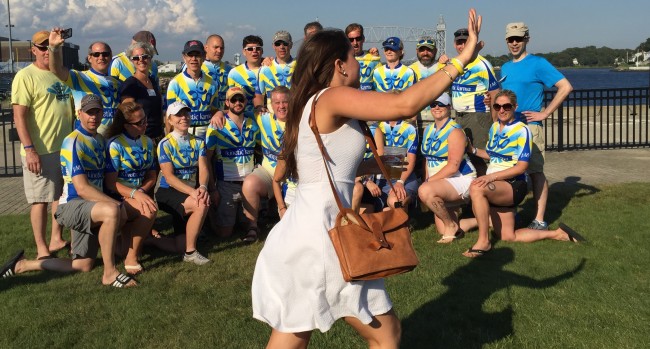 This one worked out better.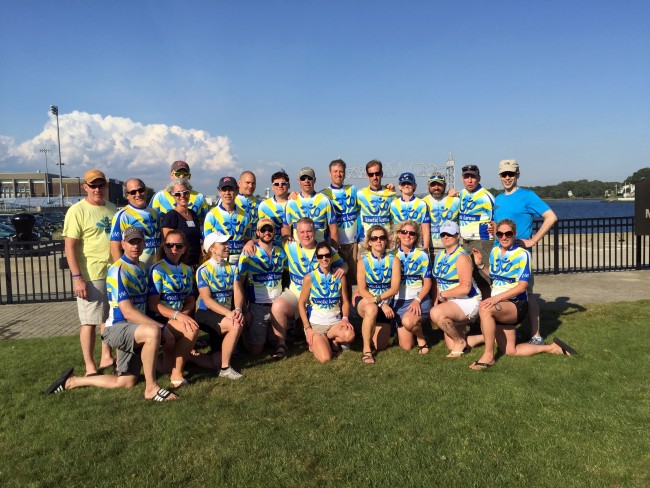 After a wait for a cab, I luxuriated at Cap'n Dave's house in Falmouth. Handlebar Doug had prepared a feast for us. Thanks Doug!
Sleep came easy. That was 192 miles down. I had just another 80 miles to reach Provincetown on Day Two of the Pan-Mass Challenge.
Thank you to all of you who sponsored me on the ride. We are winning the fight against cancer and getting "Closer by the Mile."
Donation are still open through the end of September so there is time to make a donation if you have not done so yet.