It was a cool, wet, and cloudy day, but hundreds of people gathered across Newton to see all thirteen villages of Newton by bicycle. This was the re-scheduled Tour de Newton. (The original date in June was rained out by remnants of Tropical Storm Bill.)
In West Newton, we had several dozen riders starting out for the 20-mile ride.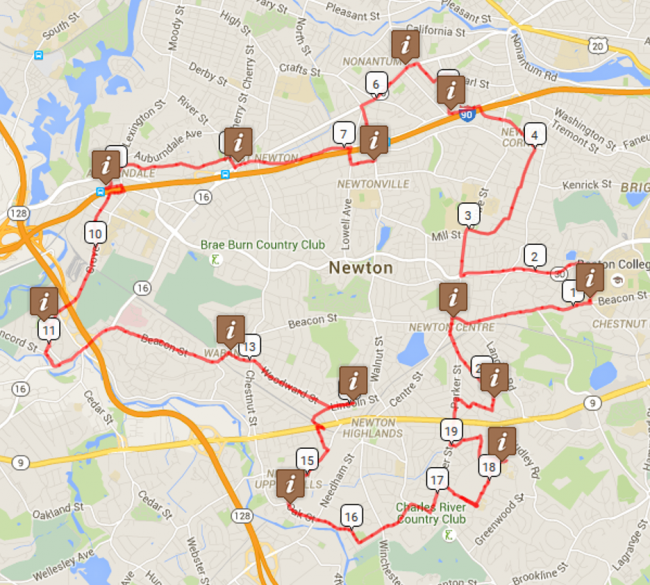 The nice folks at Harris Cyclery helped some riders with a last few fixes and tweaks. Then we rolled out in a long line to Auburndale. You can just catch a glimpse of me in this video:

It was a short ride to Auburndale, where the Auburndale Community library hosted us.
We encountered our first hill as we rode from Auburndale to Lower Falls. It's a long climb past the Riverside MBTA Station and up over Route 95.
From Lower Falls we split the large group into two. I decided to fall back and lead the less fast group with kids. From Lower Falls we had the second big climb as we rode onto Washington Street. It's a long climb up to Beacon Street.
The Waban Community Library was our rest stop in that village. A few riders needed it after the climb.
It was a short ride from Waban to Newton Highlands. The Hyde Community Center is a turn-around point to head back to the rest of Newton.
One of the big barriers to cycling in Newton is Route 9. Safe passage for a bike across the highway are few. Tour de Newton takes advantage of the pedestrian bridge at the Eliot MBTA station to get across the river of cars.  That gets us to Newton Upper Falls.
It's a tough stretch from Upper Falls to Oak Hill. First you need to get across Needham Street. That's tough to do in a car. It's even harder on a bike. We aggressively took charge of the intersection and got the riders across safely in one bunch. Then it's a long climb up to Oak Hill.
The Oak Hill stop is at Newton South High School. It doesn't have much of a village feel. But then neither does Thompsonville, the next stop at Bowen Elementary School. Jerry Reilly, one of the founders of Tour de Newton was there to tell us the story of the most-often-forgotten of Newton's thirteen villages.
The next stop was bustling Newton Center. A traffic challenge for cars and bikes.
Of course Chestnut Hill earned it's name because it is a hill. This was the last of the big hills for our group. Some struggled, but they all made it. We had the safety of the bike lane on Beacon Street to help.
We earned a long downhill for those tired legs, heading down the carriage lane of Commonwealth Avenue to the Jackson Homestead in Newton Corner.
Nonantum is always the highlight of the Tour. The Nonantum Neighborhood Association puts out treats from Antoine's Pastry Shop. I grabbed a few slices of delicious cake to refill my blood sugar levels.
One last village to visit: Newtonville. It involves another tricky crossing of Washington Street. I used the pedestrian signal. There was no way inexperienced cyclists could cross the intersection any other way.
Then it was time to the finish in West Newton. Washington Street is two lanes in both direction, but the cars don't need both so we took one lane for ourselves.
The West Newton village greeters had just about given up on us, but we arrived just as they were packing up the supplies. That means we each got our "finishers" buttons.
Here is me giving instructions at the start:

I'll have to prepare the speech ahead of time for next year. Keep an eye out for the ride next June.