Bikes Not Bombs is a great organization based in Jamaica Plain. Each year it collects roughly 6,000 used bicycles and used parts around Greater Boston. Most of these bikes are shipped overseas to economic development projects through International Programs in Africa, Latin America, and the Caribbean. Bikes that don't get shipped often land in the BNB Youth Programs where teens learn bicycle safety and mechanics skills in the process of earning bikes to keep for themselves.
Each year BNB puts on a Bike-A-Thon as it's largest community gathering and fundraiser of the year, bringing in over 700 riders. Riders could choose to ride 10 miles, 30 miles, 50 miles or the new 100 mile route.
I thought this would be a great opportunity to combine a long bike ride and support a great organization. I put my fundraising energy into the Pan Mass Challenge, so I just wrote check myself for the fundraising part of the ride.
With the B2VT coming up the following week, I thought the 100 mile route would be an excellent training ride. By adding 10 miles to get to the start and 10 mile back, I would have a long day in the saddle.
The 100 mile route meandered all over the place, making lots of extra turns to avoid being on main roads.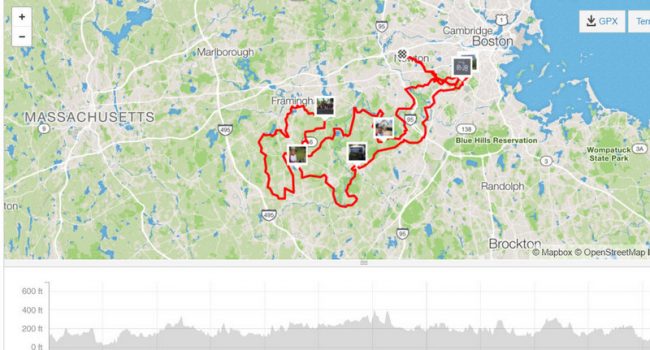 Fortunately it was well marked with the BNB road paint to keep us on course.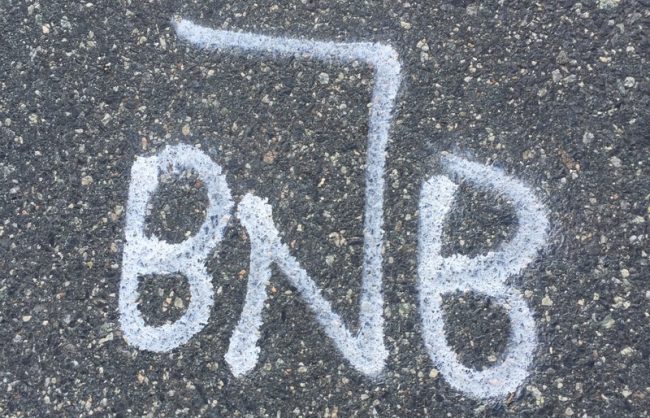 The ride warning stated that riders needed to average at least a 12 mph pace on the 100 mile route. The ride rules also said no pace-lining. There were two ride leaders in front, with a warning to not pass them or risk getting lost on the course. So, I was expecting a mellow day in the saddle.
Certainly, the first 10 miles were going to be limited by the traffic, stop signs and traffic lights within I-95. It was. Though the starting pack quickly thinned out. It was me, the two ride leaders, a guy in full Rapha kit, a few others by the time be got to I-95.
Once we hit Westwood, several other riders joined the group. I saw two Crack O' Dawn kits. And the pace picked up dramatically. After a few rotations, I took the front of the line along most of Hartford Street keeping the pace above 20 mph. The guy in the full Rapha kit blew off the back. $500 worth of bike clothing does not make you faster.
It was not going to be a mellow day in the saddle. The pace stayed high, with the group working well together for a bunch of unaffiliated riders. That got us quickly to the mile 20 rest stop. Everyone pulled in, but seemed itchy to get back on saddle quickly. A few stragglers managed to catch their breath before we headed out with same vigorous pace.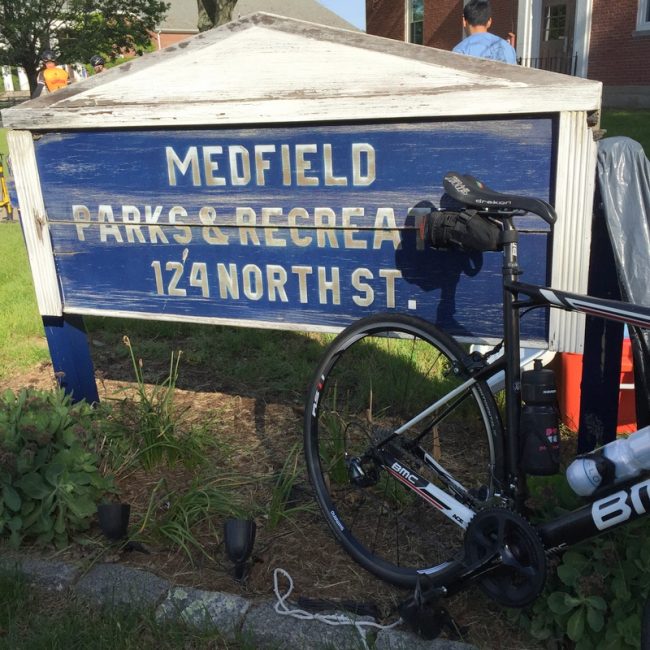 That strong pace continued. We rolled through great roads in Medfield, including Causeway Street. The next rest stop came up quickly at mile 35 at a park on the shore of Holliston's Lake Winthrop.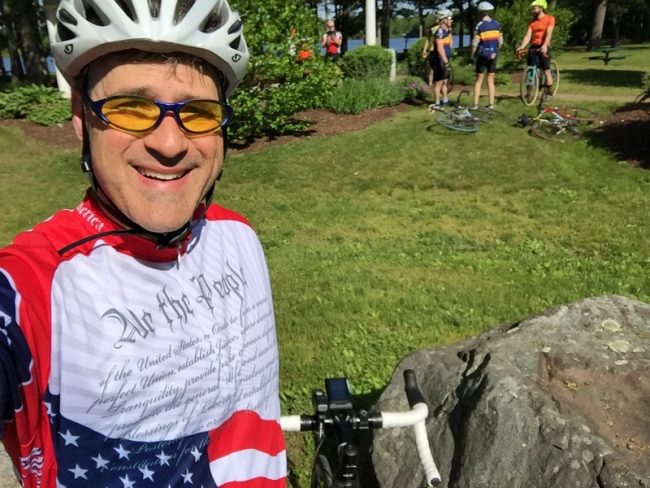 By now the sun was out and arm warmers were off, so it was time to apply and re-apply sunscreen. There was a lot more food consumed at this rest stop and we stayed a few minutes longer to shove food in our mouths and our back pockets.
Then it was back to mashing the pedals to keep things moving. There were about a dozen of us staying together at this fast pace. A few would crack and find their way back after a climb.
The mile 60 rest stop came up quickly and was a welcome respite from the heat of the day in Sherborn.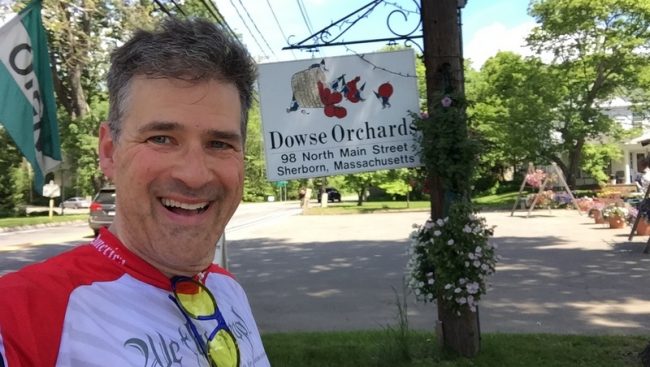 There was an ample supply of pickles. Those are one of my favorites on a long, hot ride. Science has not proven pickle juice to be any more effective than Gatorade, but it may be just as good. It just comes down a matter of taste. I find the briny, sour taste with a good crunch to be a welcome change from snack bars and Gatorade.
The lead group managed to stay together for a group picture before rolling out of the rest stop.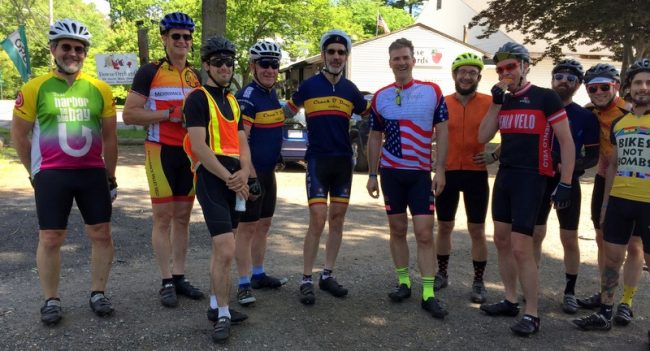 Soon cracks start forming as we went through familiar roads of Dover. I blew the group apart when we reached Claybrook Road in Dover. That smooth, new tarmac and car-free roads put me into time trial mode. One other rider and the two leaders, Mars and Addison, were all that were left by the end. And I barely made it to the end myself. My enthusiasm had gotten the better of me and cracked in the last stretch, coming to the end after 4:30, averaging a 22 mph pace. A half minute slower than my best time.
We waited a bit for the some of the other riders to re-group, but they went right, while we went left. We met again at the last rest stop: Powisset Farm. That was a conflict between wanting to rest and wanting to get the ride done.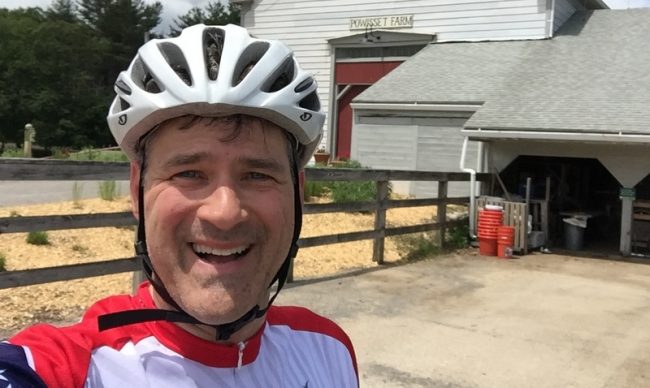 Mars, Addison and I regrouped with Bruce and Carl from the Crack O' Dawn to finish off the last 20 miles of ride. There was little pep left in us and we were pedaling at a much more mellow pace as we rolled through Newton, Brookline and into Stony Brook for the finish line.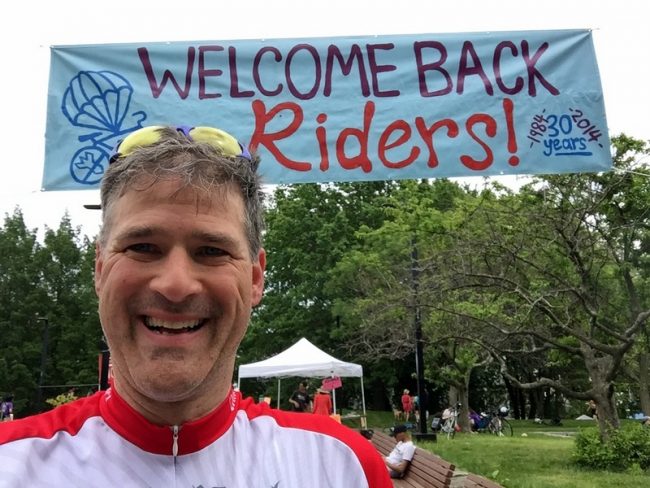 At the finish, I was able to relax with delicious Tex-Mex food. There was a fun band playing music. A great end to the day… Then I realized I still needed to bike home. I wasn't done yet. Ten more miles on the bike to get back home for relaxation.
In the end my Strava data was:
119.7 miles (I should have pedaled an extra 0.3 mile loop)
5,896 feet of climbing
Average speed of 17.0 mph