Both kids have escaped Newton to spend four weeks of summer camp in the Berkshires. Last weekend was parents' weekend and I was expected to sleep in a tent with The Boy for the weekend. I was required to be at camp by early Friday afternoon.
I needed to reconcile a weekend with The Boy and a desire to get some long miles on the bike in preparation for the Pan-Mass Challenge. I chose to ride out to Becket, spending 125 miles on the bike. (as I have done the past two years).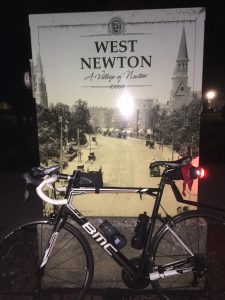 To get there by 1:00 on Friday afternoon means leaving in the middle of the night.
Riding in the wee hours of the night is a great experience. Before dawn, I encountered only a handful of cars. They were all easy to notice coming up from behind me because of their headlights.
A bright moon would have made it easier to see where I was going. But, I had clouds, darkness and drizzle. I could find calm and serenity moving through the dark with the roads to myself.
I have to admit that serenity turns to creepy in heavily wooded areas. I could see and hear creatures moving through the trees. Or at least I imagined seeing or hearing them.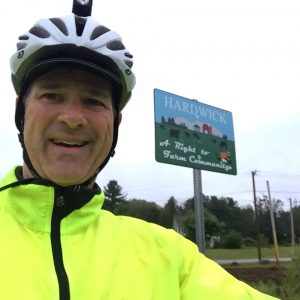 Dawn brought rain and slick roads. I had to put the rain jacket on as the sun came up.
That means, because of wet roads or dark roads, I couldn't enjoy any of the descents that came with the 8000+ feet of climbing on the ride.
My route planning software really wanted me to take the Mass Central Rail Trail for big chunks of the ride. I suspected that it was not suitable for my ride. I don't think that it's improved for most of its length, which would leave me riding over roots and rocks. It would not be illuminated, adding difficulty to a pre-dawn ride.
I stopped at the trailheads of the Mass Central Rail Trail at a few points and confirmed by suspicions.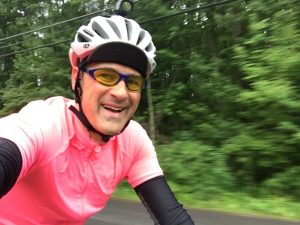 I did jump on to the Norwottuck Rail Trail once I got past Belchertown. It runs up to Amherst and crosses the Connecticut River into Northampton. The surface was a bit rough in a few spots. Tree roots are working their way under the thin asphalt.
It was flat so I was able to enjoy some smooth pedaling for 10 miles. Since it was still early, the trail was wide open.
Then I had to jump back into traffic and navigate through Northampton. I knew the penultimate big climb was coming.

I took Route 66 out of Northampton and head up, up, up. The road goes up out of the Connecticut River valley and over to Westfield River valley. It would have been a fun descent, but the roads were wet. That meant squeezing the brakes instead of flying downhill.
Because water flows downhill, that means once you pass a river you will be heading uphill.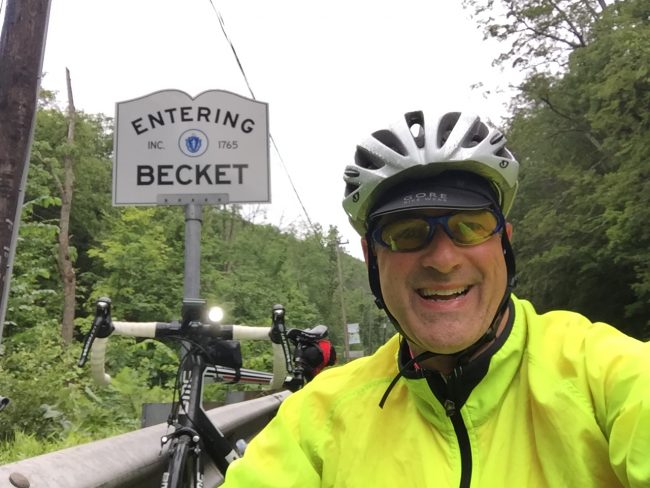 That Becket road sign is false hope. There was still a 10 mile climb for the mountain-top finish at Camp Becket.
At this point, I was in the low clouds. I would call it wet and foggy. But I was heading uphill to 1500 feet so I was in the low clouds. It was wet and cold.
I found The Boy in the clouds and drizzle.
Video of the route and some pictures: https://www.relive.cc/view/1083179349