This was the required equipment list given out by Rainier Mountaineering for my climb of Mount Rainier.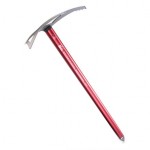 Each individual participating on a summit climb or seminar MUST have the items listed below. Do not jeopardize your safety, comfort or success – bring every item.
lug-sole climbing boots*
longjohns (top & bottom)
crampons*
ice axe*
ski poles*
backpack*
sleeping bag (rated to 32° F)**
parka (down or synthetic fill)**
rain/wind jacket and pants**
gaiters**
wool or pile/fleece pants**
2 wool or pile/fleece sweaters**
1 pair light wool or synthetic liner gloves
1 pair wool, pile/fleece mitts or gloves**
1 pair wind/waterproof shell mitts or gloves**
2 pair wool or synthetic socks
wool or synthetic stocking cap
sun cream and lip balm
2 one-quart water bottles
2 trail lunches
1 dinner
1 breakfast
eating utensils
3+ large plastic garbage bags
glacier glasses with side protection**
headlamp and 2 sets of new batteries**
Optional Equipment
Hiking Shorts
T-shirt
Sun Hat
Bandana
Earplugs
Facemask
Ski Goggles (for foul weather or if you wear contacts)
Tennis Shoes or Light Hikers
Provided Equipment
RMI provides the following equipment for all Expedition Programs:
Harnesses
Helmets
Avalanche Beacons
Ropes
Avalanche Probes
Shovels
Technical Hardware (pickets, carabiners, ascenders, ice screws, etc.)
* Available for rental in Ashford at Summit Haus and in Paradise at the Guide House. NO RESERVATIONS REQUIRED.
** Available for rental only at The Summit Haus next to Whittaker's Bunkhouse in Ashford (360) 569-2142. RESERVATIONS REQUIRED.