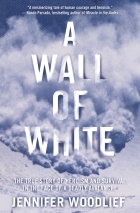 I wanted to really like this book. But I didn't.
Jennifer Woodlief tells the story of the 1982 avalanche at the Lake Tahoe ski resort of Alpine Meadows. She chronicles the stories of the victims of the avalanche and those left to conduct the rescue and recovery efforts. A ten day storm left 14 fourteen feet of snow on the resort's slopes. These are slopes that already had some unstable layers of snow. When they finally let go, a wall of white destroyed the base lodge and covered the parking, burying most of those in the area.
A few years ago I had a great time snowboarding in Lake Tahoe. After spending most of my snowboarding days on the blue ice of the east coast, that deep snow in Tahoe was intoxicating. But each morning we waited at the base, listening to the explosives go off trying break loose any unstable snow. We don't have avalanches back east. We don't get that much snow and don't have much wide open terrain above treeline. So I appreciated the work of the snow patrol as they made all that wonderful snow safe for me to enjoy.
I also saw an avalanche first-hand during my climb of Rainier. Fortunately, it was off in the distance. But we heard the roar and saw the destructive power of that snow fracturing and streaming down the mountain.
With that, you can see my interest in the book.
There were some good parts of the book and some very moving passages. As you might guess, not everyone survives. Most of the book is spent giving the background stories of the people, why they ended up on the mountain and where they ended up just before the avalanche. The avalanche itself takes just a few minutes. The ensuing rescue and recovery takes a few days.
I had trouble keeping track of all the people she included it the story. The portraits seemed to merge together into generic skiers of the early 80's and stereotypical ski bums. There are some interesting characters but it is easy to lose track of them. parts of the book seem to be in the wrong places.
With good editing and another draft of the book it could have been pretty good.
In the interest of full disclosure, Atria Books sent me an advance proof in the hopes that I would review the book.