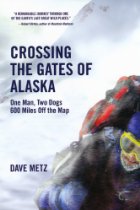 Dave Metz decides he wants to spend four months crossing the Alaskan wilderness with no human company. Just him and his two dogs. He tells us his story in Crossing the Gates of Alaska: One Man, Two Dogs, 600 Miles off the Map.
With two young kids at home, I'm now an armchair adventure, after a few years of Adventure Doug. So I enjoy a good adventure story. The publisher sent me a free copy to review.
In the spring of 2007, Dave Metz sets out from Kotzebue, on the west coast of Alaska, with two dogs to traverse the Brooks Range on foot. It was a tough journey covering 600 air miles (far longer on the ground) through some of the most remote territory on the planet. For four months, Metz and his dogs, battled bitter cold, rugged terrain, wild animals and the threat of starvation before arriving at Anaktuvuk Pass.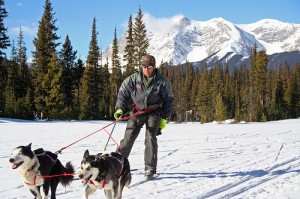 Metz spent the first six weeks skijoring up frozen rivers toward the interior mountain ranges. What is skijoring? Strap on skis, tie up your dogs, strap on their leashes and the let them pull you. For Metz, he had the dogs in front of him and two heavy plastic sleds behind him towing his supplies. Since Metz wanted to travel up the smooth surface of frozen rivers rather than bushwhack through underbrush, they had to race against the spring thaw.
At one point he encounters a local. When Mr. Metz tells him his plan to ski from Kotzebue to Ambler, he gets "a blank face, like he isn't sure why anyone would want to do what I'm doing." The book left me wondering the same question.
I never got a good sense from the book why Metz had taken on this adventure. At times, it seems the reason is to get back to nature in the sense of Thoreau and Walden. He wants to live alone with nature. But then he craves the companionship of his girlfriend, brothers and friends. He looks forward to drinking tequila and smoking cigars with them when they hike together on the second leg of the journey from Anaktuvuk Pass to Coldfoot.
His main companions are his two dogs, Will and Jimmy, big Airedale Terriers. All three of them end up running out food and close to collapsing from starvation by the time they stumble in to Anaktuvuk Pass.
The book lacks an interesting story and gets repetitive. Metz finds a big river that is hard to cross, he encounters nearly impenetrable brush, he falls down, again. I really didn't care if Metz made it to his destination. Since there is a book, you know he made it.
Crossing the Gates of Alaska goes on sale January 26, 2010.
You can see some of his pictures on Flickr: "Crossing the Gates of Alaska" by Dave Metz
I also put together this map of his route.

View Crossing the Gates of Alaska in a larger map