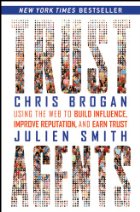 I finished reading Trust Agents: Using the Web to Build Influence, Improve Reputation, and Earn Trust
, the new book from Chris Brogan and Julien Smith.
Most likely, you are wondering what a "Trust Agent" is supposed to be.
"Trust agents have established themselves as being non-sales-oriented, non-high pressure marketers. Instead, they are digital natives using the web to be genuine and to humanize their business."
Since I thought the book would have some interest for compliance professionals, I published the review on my professional blog, Compliance Building: Are You Trying to be a Trust Agent? You can read more over there.