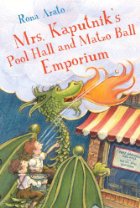 I have mixed feelings about this book.
It's about ten-year-old Shoshi, her eight-year-old brother, Moshe, and their pet dragon Snigger as they escape the Cossacks of Russia to the streets of New York City in 1898. Kids and a dragon in a story are usually a great combination. Kids love to read about dragons.
My six-year old had hard time getting into the story. I had to make us stick with reading the book for the first several chapters. Eventually, he started enjoying the story more. Once we finished, he asked me started again from the beginning. That was a big endorsement from him.
I enjoyed the book much less than he did. All of the adults come across as mean, uncaring, criminal or suspected of being criminal. Even Mrs. Kaputnik, the mother of Moshe and Soshi, comes across as mostly mean and uncaring in the book.
I had a big problem with the name of the dragon. It's too easy to drop the "s" from snigger. I think I will pronounce it with a hard "I" on the second time through.
The publisher was nice enough to send me a pre-release copy of the book. It goes on sale April 13.
In the end, if my kids like the book it gets a positive review, even if I don't like it as much.