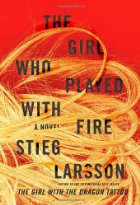 If you liked The Girl with the Dragon Tattoo, then you should like this book. Mikael Blomkvist, the intrepid reporter is back.
This time the book is much more focused on the mysterious Lisbeth Salander, the Pippi Longstocking-ish investigator. She is the one who is in trouble as we find out more about her mysterious background.
The Girl with the Dragon Tattoo, the first book in Stieg Larsson
's Millenium trilogy was very cerebral. The Girl Who Played with Fire is action-packed. I have to admit that I was drawn into the story and rabidly consumed the book to see where the story was going.
After reading it and reflecting back, I'm disappointed. The bad guys are cartoonish, reminding me of James Bond villains. Salander is a very interesting character, but seems to have superhero powers. The cops are inept caricatures. Every other character is very flat.
The narrative was compelling and I was intent on finding out what happened to Salander. Maybe that's enough. I just wish there was more.
That being said, I'm still looking forward to The Girl Who Kicked the Hornet's Nest
when it comes out next week.