A bridge so nice, they named it twice to the 1,000 Great Places in Massachusetts. It's listed under Boston as "Longfellow Bridge" and "The Longfellow Bridge." My Librarian friends would be horrified to see how many items on the list are alphabetized using "The."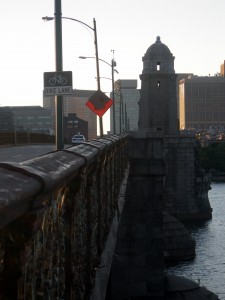 Apparently, the Cambridge side of the Longfellow Bridge was not great enough to make the list.
The bridge spans nearly one-half mile across the Charles River. It consists of eleven steel arch spans supported on ten masonry piers and two massive abutments. The the shape of its central towers earned it the "Salt- and-Pepper-Shaker Bridge" nickname. The Longfellow Bridge is a vital link between Boston and Cambridge, with cars, walkers, runners, cyclists, and MBTA riders using its great span. Since it opened to traffic over 100 years ago, the bridge is showing its age. It's steel is rusting and it's stone is crumbling. To counter the decay, the state is beginning a six-year, $300 million rehabilitation.
The bridge is named for the poet Henry Wadsworth Longfellow. He regularly walked the earlier West Boston Bridge which was replaced by the bridge now named after him. In 1845 Longfellow published "The Bridge'' a poem inspired by those crossings of the earlier West Boston Bridge.
The Boston Globe put together this great collection of the Longfellow Bridge through the Years and the video below.
Here is what I have so far on 1,000 Great Places in Massachusetts:
[catlist id=454 numberposts=1000]
Top image is of Longfellow Cambridgeside is by ECM85.