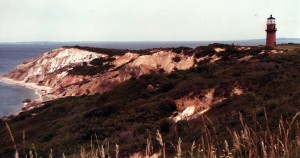 The brightly colored clay cliffs of Aquinnah's Gay Head are beautiful from the ocean and the observation deck above them. The clay cliffs are ecologically protected, meaning it's forbidden to climb the cliffs or touch the clay.
The picture above was taken aboard the Madness in our our sailing cruise from Padanaram Village. The picture to the right was taken from one of several trips to Martha's Vineyard around 1980.
The area was incorporated in 1870 as Gay Head. In 1997, by popular vote of 39 to 36, the town changed its name to Aquinnah, which is Wampanoag for "land under the hill."
The brightly colored cliffs sit at the Western end of Martha's Vineyard. English explorer Bartholomew Gosnold, naming them "Dover Cliff" in 1602 after the famed cliffs of his homeland. According to The History of Martha's Vineyard Volume II by Dr. Charles E. Banks, the name did not survive and the English took to calling it Gay Head "as descriptive of the gaily colored cliffs seen from the west when approaching the island from the sea."
The U.S. Department of the Interior named the cliffs a National Natural Landmark in 1966.