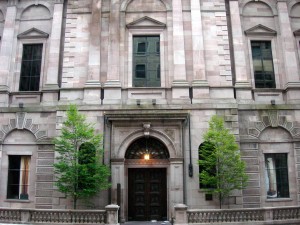 The Boston Athenæum is a private library on Beacon Hill that first opened its doors in 1807.
For those of you (like me) who wondered what "athenaeum" means, the Oxford English Dictionary defines it as:
An association of persons interested in scientific and literary pursuits, meeting for the purpose of mutual improvement; a literary or scientific club;
A building or institution in which books, periodicals, and newspapers are provided for use; a literary club-room, reading-room, library.
The word athenaeum is derived from Athena, the goddess of wisdom who inspires intellectual pursuits.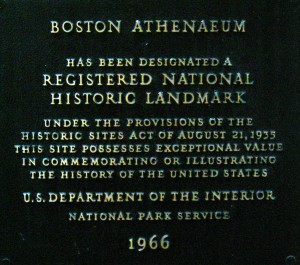 The Athenæum is located at 10½ Beacon Street in a building designed by Edward Clarke Cabot.
I joined a few year ago because it seemed like a Boston thing to do. I have to admit that I have taken little advantage of the membership. The one thing I have done a few times is bring the kids in for story time. There is a great children's reading room, with lots of nooks for kids to curl up with a book. It also has a great out the window that overlooks the Old Granary Burying Ground.
The Boston Athenæum was declared a National Historic Landmark in 1966.
It has enough credentials to get listed on the 1,000 Great Places in Massachusetts. These are the places I have written about so far:
[catlist id=454 numberposts=1000]