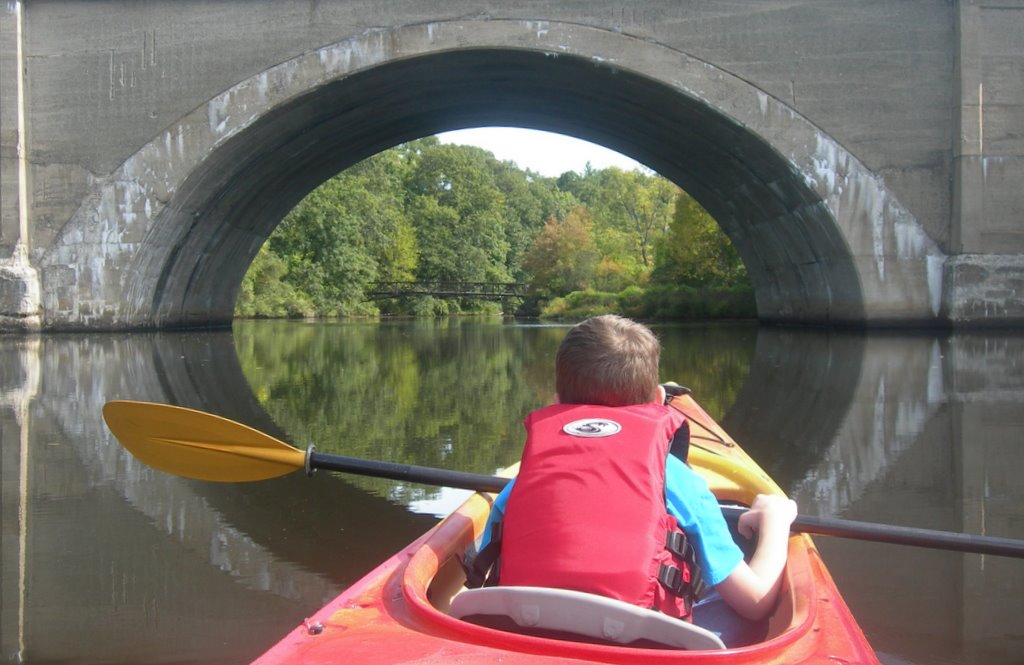 I finally convinced The Boy to get a paddle in his hands. We rented a double kayak from Charles River Canoe & Kayak on Commonwealth Avenue in Newton and set off to explore the Charles River.
It was beautiful day on the Charles. The trees were showing a few wisps of the upcoming colors of fall.
The Lakes District is formed by Moody Street Dam in Waltham. It impedes the flow of the Charles, flooding the low lying areas to create a power supply for the mill that used to operate at the base of the dam. The power need for the dam has long passed, but the dam stays in place, helping to control downriver flooding.
But rather than heading downstream into the Lakes District, we headed upstream to the dam at Newton Lower Falls. I figured it was time to start linking together some of my trips on Charles River.
Heading upstream from Charles River Canoe & Kayak gets you zig-zagg under the highway bridges of I-90 and I-95 and a railroad crossing. Other those massive intrusions, it's a nice stretch of river.
Until you get to the old Grossman's site in Wellesley. That site had sat vacant for years. Now they are finally re-developing the site. Unfortunately, they decided to cut down nearly all of the trees, bushes, and plants on the riverbank that abuts the site. The de-nuded slope is a disaster.
It was also close to our turn-around point. The water level was low and we scraped the bottom in a few places, finally forcing us to turn before we could see the upstream dam.
Along the way we got buzzed by a great blue heron. We payed visits to the dozens of turtles sunning themselves on the riverbank.
The Boy did very little paddling, but said he had a great time. Most importantly, he said he wanted to go again.
The yellow line marks our journey.