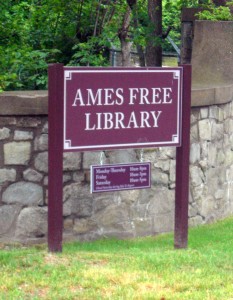 I restarted my quest to visit the 1,000 Great Places in Massachusetts by visiting the Children's Museum of Easton. The Ames Free Library was only one block away, so I needed to pay it a visit.
Oliver Ames II left $50,000 in his will for the construction and support of a library for the benefit of the inhabitants of Easton, Massachusetts. The main building was designed by Henry Hobson Richardson in 1877 and first opened its doors in 1883.
Given that they have the same architect, you probably see some similarity between this library and Trinity Church in Boston. The similarity goes deeper. The library is built of Milford granite with the same Longmeadow trim used on the church.
The children's wing at the rear was built in 1931. The construction was funded by a gift from Mrs. William H. Ames (Fanny Holt Ames), a member of the Board of Trustees for 40 years, in memory of her husband William Hadwen Ames. The addition was designed by Shepley, Rutan, and Coolidge of Boston, the architectural firm formed by three members of H.H. Richardson's office upon his death in 1886.