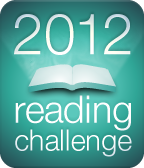 The Goal
One of my recurring annual goals is to finish reading at least 26 books for the year. In 2012, I managed to finish 36. Although, 6 of those were lighter reads. So maybe I should discount those and bring it down to 30. In any event, I exceeded my goal. The full list is below.
Reviews
Some of the titles will look familiar since I gave them a longer write up here. I also mentioned a few on Wired.com's GeekDad and on Compliance Building. There are links that will take you to my reviews.
GoodReads versus LibraryThing
I'm still tracking my books in two parallel systems. Library Thing has a superior platform for cataloging books. GoodReads has a better platform for interacting with other readers, sharing reviews, and sharing booklists. Each has their strengths and weaknesses. I'd like to jettison one of them to quit duplicating efforts. So far, neither one has made a compelling move to improve and elbow the other out of the way.
2012 Reading List
| | | | |
| --- | --- | --- | --- |
| Title | | Author | Rating |
| How: Why How We Do Anything Means Everything | | Dov Seidman | Review |
| Defending Jacob: A Novel | | William Landay | Review |
| The Big Roads: The Untold Story of the Engineers, Visionaries, and Trailblazers Who Created the American Superhighways | | Earl Swift | Review |
| Ten Tea Parties: Patriotic Protests That History Forgot | | Joseph Cummins | |
| A Dance with Dragons: A Song of Ice and Fire: Book Five | | George R.R. Martin | |
| Why the Law Is So Perverse | | Leo Katz | Review |
| The Power of Habit: Why We Do What We Do in Life and Business | | Charles Duhigg | Review |
| A Visit from the Goon Squad | | Jennifer Egan | |
| The Richer Sex: How the New Majority of Female Breadwinners Is Transforming Sex, Love and Family | | Liza Mundy | Review |
| Eden on the Charles: The Making of Boston | | Michael Rawson | Review |
| The Walking Dead, Book 7 | | Robert Kirkman | |
| Ruin Nation: Destruction and the American Civil War | | Megan Kate Nelson | |
| Catching Fire (The Hunger Games, Book 2) | | Suzanne Collins | |
| Mockingjay (The Hunger Games, Book 3) | | Suzanne Collins | |
| Show Time | | Phil Harvey | Review |
| The First Tycoon: The Epic Life of Cornelius Vanderbilt | | T.J. Stiles | Review |
| Cutting-Edge Cycling | | Hunter Allen | |
| Gone Girl | | Gillian Flynn | |
| Pines | | Blake Crouch | |
| Amazing Gracie: A Dog's Tale | | Dan Dye | |
| The Age of Miracles | | Karen Thompson Walker | |
| Sharp Objects | | Gillian Flynn | |
| Already Gone | | John Rector | |
| Nine Steps to Sara | | Lisa Olsen | |
| The Walking Dead, Book 8 | | Robert Kirkman | |
| The American Alpine Journal 2012 | | John III Harlin | |
| Moby-Duck: The True Story of 28,800 Bath Toys Lost at Sea and of the Beachcombers, Oceanographers, Environmentalists, and Fools, Including the Author,Who Went in Search of Them | | Donovan Hohn | |
| Apocalypse Z: The Beginning of the End | | Manel Loureiro | |
| The Dead Room | | Robert Ellis | |
| Make Magic! Do Good! | | Dallas Clayton | Review |
| xkcd: volume 0 | | Randall Munroe | |
| Save Yourself, Mammal!: A Saturday Morning Breakfast Cereal Collection | | Zach Weinersmith | |
| The Physics of Wall Street: A Brief History of Predicting the Unpredictable | | James Owen Weatherall | Review |
| The Most Dangerous Game: A Saturday Morning Breakfast Cereal Collection | | Zach Weinersmith | |
| The Remaining | | D.J. Molles | |
| No-Man's Lands: One Man's Odyssey Through The Odyssey | | Scott Huler | Review |