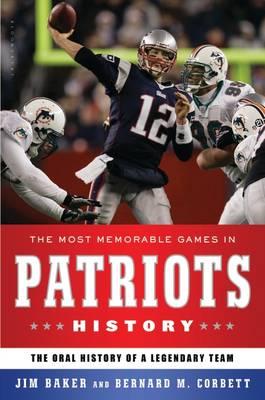 If you remember 15 years of losing to the Dolphins in the Orange Bowl, you will love this book. If you enjoy reading about the history of the National Football League, you will enjoy this book. If you think the Patriots begin and end with Tom Brady, you may be disappointed. If you hate the Patriots, you will want to burn this book.
Jim Baker, a regular contributor to ESPN.com's "Page 2" and Bernard M. Corbett, author of The Only Game That Matters: The Harvard/Yale Rivalry compile the history of the New England Patriots franchise by using 10 key games as the tentpoles. Besides the game descriptions, the book is full of player recollections, trivia, and stats.
The Patriots started off as one of the top teams in the American Football League. Then the team's success ebbed and flowed with an ownership that usually lacked the capital to compete. After a few years of turmoil in the front office, Robert Kraft positioned the team for its current run of success.
The authors interviewed dozens of players, including Raymond Berry, Troy Brown, Steve Grogan, John Hannah, Steve Nelson, Dante Scarnecchia, Patrick Sullivan, and the late Mosi Tatupu. Those interviews are added to add great color to the stories about the franchise and the individual games.
The team's current success can be attributed to a strong owner, a great coach and a great quarterback. You will not find any meaningful quotes from those three in the book. Besides Bill Belichick, Tom Brady, and Robert Kraft, Drew Bledsoe is also missing from the list of interviewees.
What are the ten games? Of course the three Super Bowl wins are in there. There is the win over the Giants in 2007 to go 18-0 in the regular season. You should buy the book and discover the six others.
The publisher was kind enough to send me a copy of this book for review.