We picked a beautiful summer day to start our exploration of the Sudbury River.
I've driven over parts of the river a few times. You have also if you've every driven on Route 2 by Emerson Hospital. That's where the Sudbury River passes under that highway.
We started the day in Lincoln, near the Concord border on route 117. There is a parking area east of Lee's Bridge and the Sudbury River. The river is easy to see from the bridge, but the parking area is a bit harder. It looks like it's in the Mount Misery woods.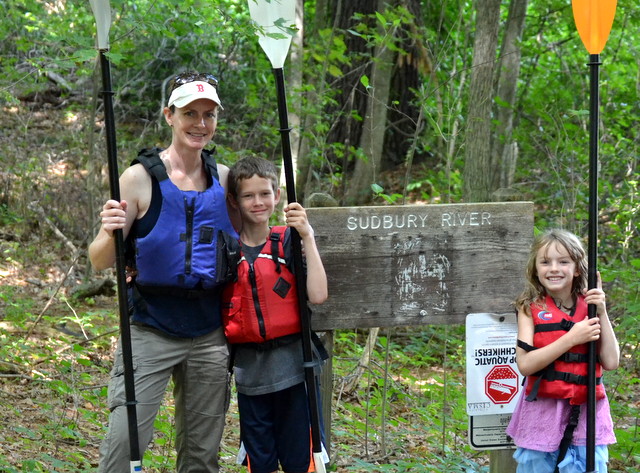 From the parking area, there is short haul down to a bay on the river. That bay is a hundred yard long slot that leads out into the Sudbury River itself.
The Boy once again was paddling on his own. We rented a Wilderness Pungo 140 from Charles River Canoe & Kayak. We taped up his thumbs to prevent the blisters he got last time.

Shortly, we paddled into Fairhaven Bay where the river widens. According to Thoreau's journal, he accidentally set fire to the woods around Fairhaven Bay in 1844. Far across the bay is a beautiful stone boathouse.
As you turn the corner out of the bay and head downstream on the river, you will definitely see a huge modern house perched uphill above the left-hand bank. I believe Hassan Ahmed bought the estate in 2009 after leaving Sonus Networks.
The Sudbury River is slow and flat through this section. It would be easy to paddle round trip. With Natascha along, we were able to shuttle cars and only paddle a downstream trip.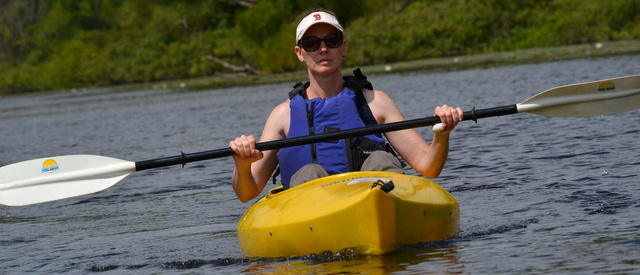 <insert obligatory waterfowl picture.>

The most unusual sight on the river was this pontoon boat.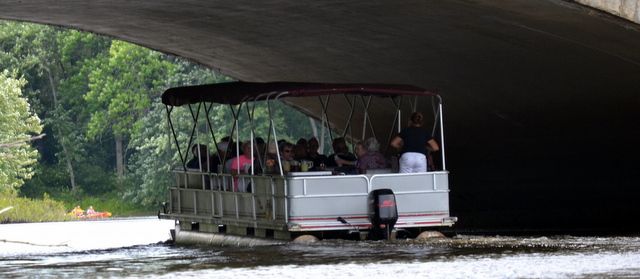 It was a lunch cruise on the Concord River. Martha's Catering & Concord River Cruises runs the operation out of the South Bridge Boat House.  This is a good spot to rent a canoe or kayak if you want to explore he nearby sections of the Concord, Assabet, or Subbury Rivers.
There were several casual fishermen along the river. Based on the sign below, I hope they were just doing a catch & release.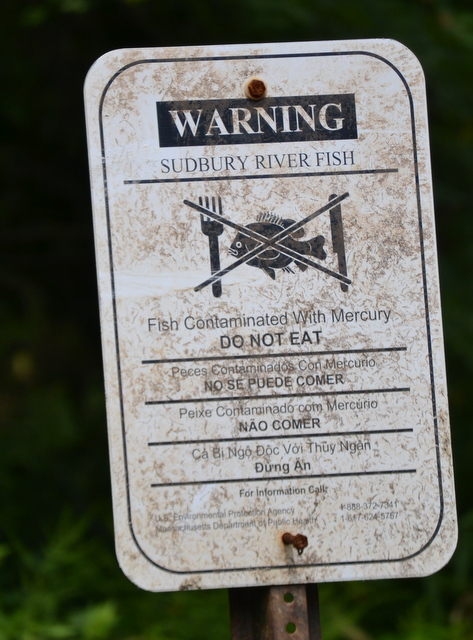 At the end of the paddle, we came to Egg Rock, where the Assabet River merges with the Sudbury River to form the Concord River.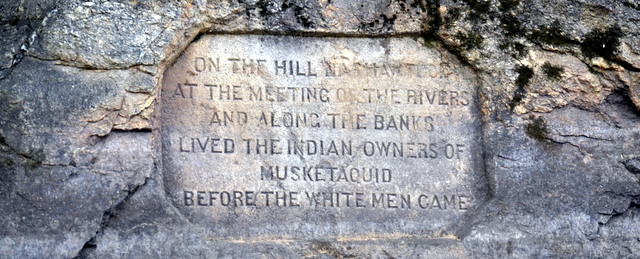 From the merge it was just a short distance to the Old Calf Pasture landing spot on Lowell Road in Concord. This paddling trip was a little bit over five miles.